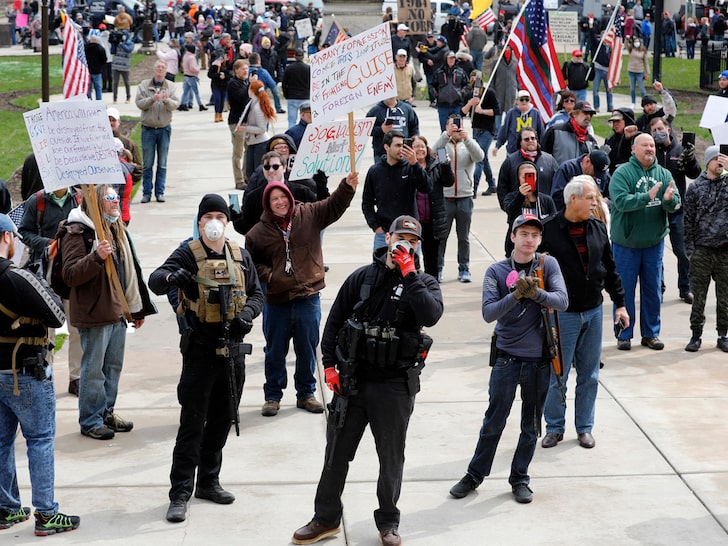 Several thousand cars flooded the streets around the state Capitol in Lansing, Mich. to protest the governor's extended stay-at-home order.  Operation Gridlock, as the protest was named, was conceived as a drive-in protest that would block Lansing streets. Organizers said they support some coronavirus restrictions around social distancing, but believed Whitmer has gone too far. As such, they say they planned a protest that would still maintain social distancing guidelines — without contributing to the spread of infection.
At least 200 people broke from the instructions of organizers, getting out of their vehicles to congregate around the steps of the Capitol building, flouting social-distancing guidelines to remain 6 feet apart, and not wearing masks.  Many mask-less protesters, some of whom flew Confederate flags and open-carried AR-15 and AK-47 variants, gathered to demand an end to outbreak-reduction efforts and a premature return to normalcy.
The state of Michigan has the third-highest number of COVID-19 cases, 32,000 and over 2,400 deaths.  Gov. Gretchen Whitmer has faced a steady drumbeat of criticism for issuing one of the most stringent stay-at-home orders.  Among other things, it bars landscapers from working and shutters many greenhouses and nurseries.  She extended her original order last week to now end April 30th.  The new version of the order banned travel between homes.   As of Monday, more than a quarter of the state's workforce had filed for unemployment benefits.  Southeast Michigan and Detroit remain a hot spot — claiming the lion's share of COVID-19 cases and deaths.  Detroit has more than 7,700 positive cases.
Over the past 10 days, the number of patients hospitalized with COVID-19 dropped 6.7%, to 3,374. During the same period, the number of patients on a ventilator decreased from 1,441 to 1,102, a 24% decline, according to data from the Michigan Department of Health and Human Services.  Dr. Joneigh Khaldun, the state's chief medical officer, attributed the progress to the governor's March 24 stay-at-home order that was previously extended to April 13.
Whitmer is expected to extend her stay-at-home order, which expires at the end of the month, until there is a larger testing capacity and a significant decline in the number of new cases and deaths.  Although the numbers are declining, dozens of people are still dying each day.  Some counties that have been hard hit are seeing a decline in new cases but the number of deaths continue to rise.