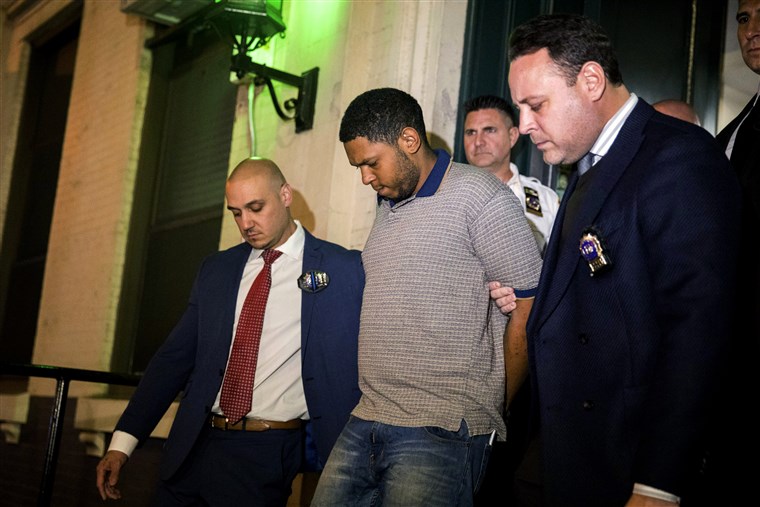 A suspect has been arrested after four homeless men were killed and one was critically injured when they were attacked in New York City early Saturday morning.  Police said Randy Rodriguez-Santos, 24, who is homeless, wielded a 15-pound metal pipe and apparently attacked the men randomly as they slept on the sidewalks of Lower Manhattan's Chinatown.  Santos is reportedly also homeless and has struggled with addiction.  He is charged with four counts of murder, one count of attempted murder and unlawful possession of marijuana.
Police responded to reports of an assault in progress at Doyers Street and Bowery around 2:10 a.m. and found two men with head wounds. One victim was pronounced dead at the scene and another was taken to the hospital in critical condition.  Over the next hour, police discovered additional victims in the area, two men were found outside of 2 East Broadway and another was found outside of 17 East Broadway.
Two witnesses told responding officers that the suspect was wearing a black jacket and black pants, which helped police find him quickly just a few streets away.  Rodriguez-Santos was apprehended a few blocks from the scene of the attacks and the weapon was recovered nearby.  The attacks left blood splattered on the doorways and sidewalks where the men had been sleeping.
The victims, whose ages range from 48 to 83, were bludgeoned as they slept on the street.  Three of the four men killed were identified Monday, as lawmakers and mourners gathered at an emotional memorial for the men at Chatham Square.  Several sidewalk tributes of flowers, candles and food were placed for the men who were allegedly killed by another homeless man as they slept.  One of the mourners cried as she recalled the oldest victim, 83-year-old Chuen Kwok, always being grateful for the food she gave him.  New York State assembly woman Yuh-Line Niou choked back tears as she spoke on the mens' deaths. "If the change isn't now, after this, I don't know when it is."
The medical examiner's office later confirmed his identity and those of two other victims: 55-year-old Nazario Vazquez Villegas and 49-year-old Anthony Manson.  Santos was arraigned on charges of murder and attempted murder for the bloody rampage. He did not enter a plea and was ordered held without bail.  Police officials said Santos has been arrested 14 times, some of those for assault, including one in May for an alleged assault at a Brooklyn homeless shelter.
The suspect's mother, Fioraliza Rodriguez, 55, told news outlets she had kicked him out about three years ago. He struggled with drugs, assaulted her and his grandfather, and stole from the family, she said.  "I never thought he would kill someone," she said. "I was afraid of him, though, because he punched me. That's when I told him to get out of my house."