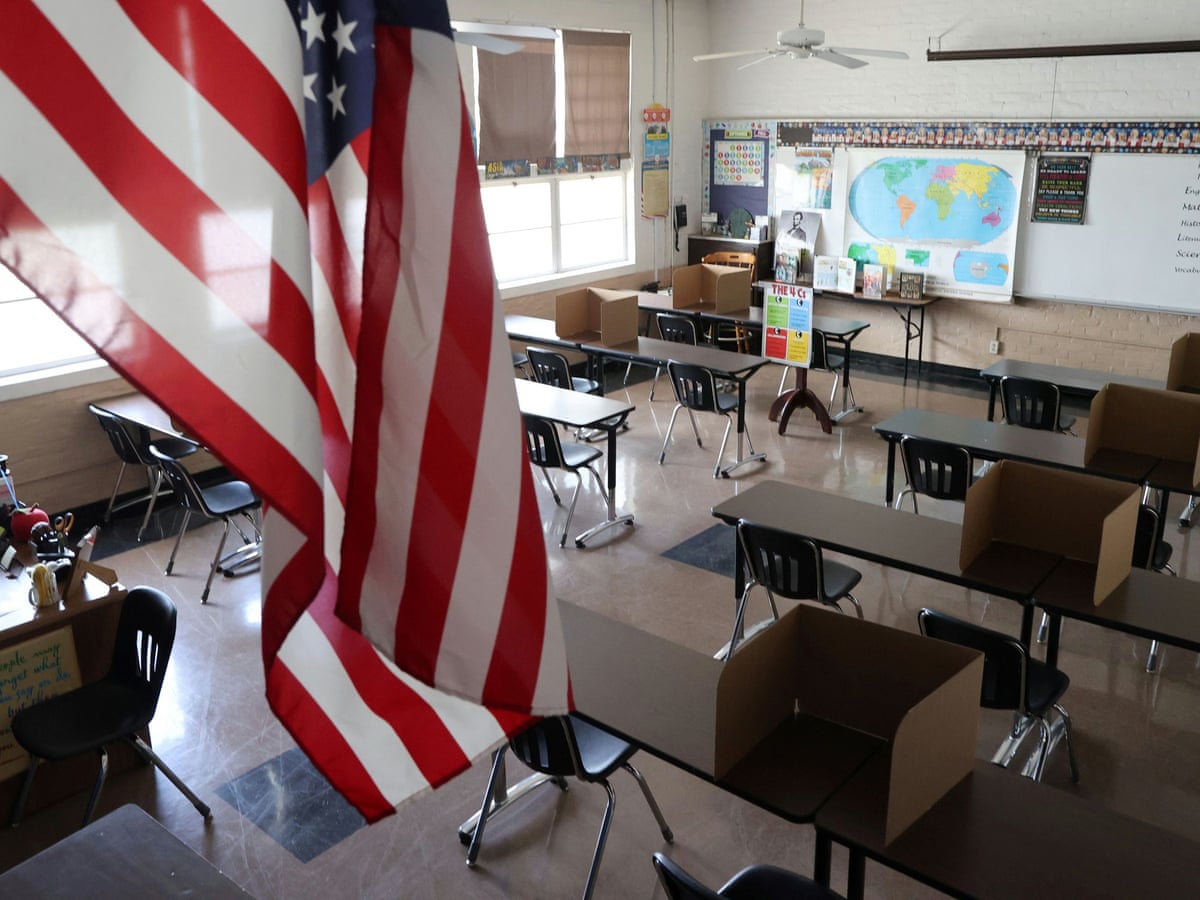 In the US, Covid 19 has killed nearly 141,000 people and infected 3.8 million — both by far the highest numbers in the world. The US has more than a quarter of the deaths and infections in the entire world, yet only a little more than 4% of the population. As cases continue to spike, tensions spike over schools reopening. As schools across the country prepare to reopen for in-classroom learning, teachers are trying to figure out the safest way to resume in-person education. While some schools have given the option for online courses, others are still working on plans to return to the classroom. Lawmakers in Washington are pushing to include a provision in a new coronavirus relief package tying school funding to the reopening of classrooms. Many public health officials fear the reopening of schools could lead to a new surge in COVID-19 deaths and hospitalizations.
Three teachers in Arizona were sharing a classroom for two hours a day teaching online summer school classes during the pandemic. Despite following protocols — social distancing, wearing masks and gloves, and using hand sanitizer — they were all sickened by the coronavirus. Kimberley Chavez Lopez Byrd, 61, died June 26, less than two weeks after she was hospitalized. The two surviving teachers, Jena Martinez and Angela Skillings, said that it is not yet safe for kids, or teachers, to return to the classroom. Martinez said that when they began to do their online schooling from campus, they followed plans in place meant to keep them safe from the virus.
In Arizona, teachers want Governor Doug Ducey to push the start of in-person school to at least early October after the beloved educator died of COVID-19 teaching summer school and statewide hospitalizations and deaths spiral. At stake, Arizona teachers say, is the safety of the state's 1.1 million public school students and 20,000 teachers. Arizona has been hit hard by the virus this summer as its 7-day average of new cases has gone from 500 at the end of May to more than 3,000 in July, while hospitals' intensive care capacity, according to most recent data from Arizona Department of Public Health, stood at a nearly 90% percent last week.
Florida has reported more than 10,000 new coronavirus cases for the sixth day in a row. On Monday, Florida's largest teachers' union sued Republican Governor Ron DeSantis to block his order requiring all schools to reopen next month despite the growing pandemic, which has killed nearly 5,200 Floridians.
Meanwhile, Missouri Governor Mike Parson is insisting students go to school despite the risk of the virus. He received backlash after giving an interview where he said "These kids have got to get back to school. They're at the lowest risk possible. And if they do get COVID-19, which they will — and they will when they go to school — they're not going to the hospitals. They're not going to have to sit in doctor's offices. They're going to go home and they're going to get over it. We gotta move on," he continued. "We can't just let this thing stop us in our tracks." Many criticized his statement calling it "stunning ignorance" saying the virus "doesn't stop with our children. The teachers, bus drivers, janitors, food service workers, parents, grandparents and neighbors who our children see every day are susceptible to this virus, too. We need a plan that keeps all Missouri families safe." Missouri has 47,519 confirmed cases and 1,268 deaths.
It is still unclear how frequently children transmit the virus to others. Some data suggests children are less susceptible to contracting the virus and spreading it to adults. According to the CDC, 175,374 cases have been confirmed in kids ages 17 and under, accounting for approximately 6% of all confirmed cases. A large study recently shared out of South Korea found children between the ages of 10 and 19 can spread the virus as much as adults do, while children younger than the age of 10 transmit the virus to others less often than adults.