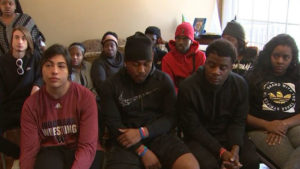 Cartersville, Georgia police are facing criticism after arresting 70 people at a house party in an Atlanta suburb after no one would claim ownership of a stash of marijuana that totaled less than an ounce. Partygoers say police entered the home without permission or a warrant, and arrested everyone inside when they couldn't determine the owner of the less than an ounce of marijuana they seized.
Cartersville police responded to a "shots fired" call around 2:18 AM on New Year's Eve at the Morgan Square apartments on Cain Drive. Someone from the apartment complex called 911 to report the noise from the party, drawing police to the site of the party, just blocks from the apartment complex. Partygoers allege that the sounds were fireworks, not gunfire and that while police were checking things out-they smelled marijuana in the front yard. They say police didn't have a warrant at that point but they said two officers entered the home anyway.
Deja Heard had rented the home where the party was held through Air BnB to celebrate her 21st birthday by having a "Christmas Lingerie Party". Flyers for the party said "Party Alert. East Atlanta Santa's 21st Sexy Christmas Lingerie Pajama Party" and advertised a cover for drinks, Jell-O shots, "drunk/strip Twister" and beer pong.
Those arrested ranged in age from 15 to 31 years old and some remained in jail 2 days after the arrest- causing them to lose their jobs. Jail records showed that 63 of the 70 arrestees had all been processed with a single count of marijuana possession under one ounce. Some parents of those arrested have cried foul at the arrests, claiming that if the incident happened in Atlanta, the attendees would've walked away with a $75 ticket.
Several of those arrested, now called "the Cartersville 70" on social media, have given interviews to local media outlets saying they fear they will have a criminal record. Austen Davis told a reporter "I was told we were just being detained; one of the officers said we're putting you in a van to keep y'all warm." Others say they were verbally abused during their arrest. Along with the attorneys representing the young people arrested, the NAACP is now involved.
The Georgia chapter of the NAACP said most of the drug charges should be dropped because officers didn't have the right to search the home. "We believe, based on what we know from the police report and independent witnesses and video, that there was a violation of people's Fourth Amendment rights," The Fourth Amendment protects citizens from unreasonable searches and seizures of property. The NAACP contends that the house and those attending the party were unlawfully searched and that citations could have been issued, rather than arresting the party-goers.
In a news release, police said they obtained a warrant and found two stolen guns, marijuana individually packaged and several smoking devices throughout most of the first-floor rooms. Individually packaged suspected cocaine and cocaine-related paraphernalia were also located upon initial contact with multiple subjects, the release said. According to Cartersville Police Lt. M.E. Betttikofer, the police investigation is presently ongoing.