8 months ago
·
by
HealthInsurance4Everyone
·
Comments Off

on Public Outrage in Puerto Rico After Warehouse of Unused Emergency Supplies Discovered From 2017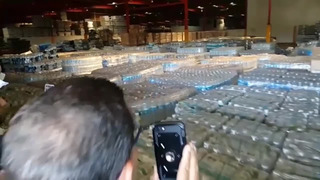 In Puerto Rico, protesters took to the streets calling for the resignation of Governor Wanda Vázquez, after a video was posted showing undistributed emergency supplies sitting in a warehouse in the city of Ponce.   Many are still reeling after a 6.4 magnitude earthquake hit the island earlier this month, forcing thousands to leave their homes. Some of the supplies, which include cots, emergency radios, bottled water, baby diapers and propane gas, date back to 2017 and were reportedly intended as emergency aid for victims of Hurricane Maria.  Vázquez is also under fire over her handling of the recent 6.4 magnitude earthquake, which killed one person and left thousands homeless.  
The warehouse filled with unused emergency supplies was discovered when desperate residents broke in to retrieve goods as the area struggles to recover from the earthquake.  After the video went viral, Governor Vázquez ordered an investigation and fired three members of her Cabinet as public outrage mounted. Vazquez ordered the dismissal of Carlos Acevedo, the director of Puerto Rico's Office of Emergency Management days after the video emerged.  She then ordered the dismissal of two more cabinet members — her secretaries of family services, Glorimar Andújar, and housing, Fernando Gil-Enseñat. The dismissals mean Vázquez fired three members of her cabinet in a little over 24 hours.  
Vázquez said inaction by the fired official, Carlos Acevedo, was unacceptable.  During a news conference, Vazquez said, "Under my administration nobody can come to me with lies. I have a commitment [with the people of Puerto Rico. Public officials serving with me have to have the same commitment."  Acevedo has denied allegations that his office mishandled the supplies saying the agency continued to distribute them, including during the time Hurricane Dorian and Hurricane Karen threatened the territory. Some of the pallets of water that remained in the warehouse had expired, he said.  He said no residents had been denied the supplies in the warehouse, including food, diapers, baby formula and cots.
Vázquez announced that Nino Correa will be the new chief of operations for Puerto Rico's Emergency Management Office, replacing Acevedo.  The governor had previously said that Secretary of State Elmer Román will now coordinate emergency aid and Adjutant General of the Puerto Rico National Guard José Reyes will be in charge of the Office of Emergency Management.