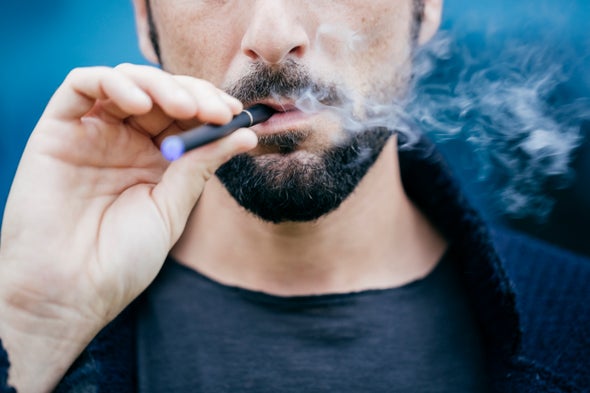 Lung injuries and deaths linked to the use of e-cigarettes and vaping products has continued to rise in the US.  The CDC has confirmed 2,290 vaping related lung injury cases and 47 deaths reported as of November 21st, 2019.  Cases have been reported in all states except Alaska, along with the District of Columbia and two U.S. territories.  Deaths have been confirmed in 25 states and Washington D.C., with more being investigated.  Those affected by these illnesses range in age from 13 to 75 years old.
CDC data shows on 514 patients, about 77% reported using THC-containing products in the 30 days prior to the start of their symptoms. However, 16% reported using only nicotine-containing products.  The illness is marked by chest pain, shortness of breath and vomiting, and it has largely affected young people. The vast majority of cases, almost 80%, involve e-cigarette users younger than 35, and another 15% are younger than 18.
While the investigation into the cause is still ongoing, the CDC has uncovered a potential cause- vitamin E acetate.  Samples taken from the lungs of 29 people with e-cigarette, or vaping, product use associated lung injury or (EVALI) all contained vitamin E acetate.  The CDC has also expanded its laboratory testing to include lung fluid, blood, and urine samples from patients, as well as lung biopsy and autopsy specimens.
Vitamin E acetate is commonly used in ingested supplements or skin care, and in those cases appears to be safe.  Dr. Anne Schuchat, principal deputy director of the CDC said previous research has found that when vitamin E acetate is inhaled, it may interfere with normal lung function.  She said they are no longer seeing such a dramatic rise in EVALI cases as earlier this fall but that some states are still investigating potential cases.
The agency continues to work with the Food and Drug Administration (FDA), states, and health providers to track and investigate this outbreak.  The agency is also testing the vapor of e-cigarette products that have been involved in these cases to look for potentially harmful compounds.  While it appears that vitamin E acetate is associated with EVALI, evidence is not yet sufficient to rule out contribution of other chemicals of concern to EVALI.  Many different substances and product sources are still under investigation, and it may be that there is more than one cause of this outbreak.
EVALI looks and sounds like pneumonia. Symptoms include chest pain, shortness of breath, fever, nausea and vomiting. But it's not an infection. The antibiotics used to clear up pneumonia don't help the vaping illness and without knowing if a patient vapes-doctors might pursue the wrong treatment or miss the chance to encourage the person to stop.  The CDC reports that some early patients with the illness who have been out of the hospital for several weeks have begun receiving follow-up care. Doctors are reporting that patients' recoveries have varied, with some patients appearing to make full recoveries and others continuing to have trouble breathing. CDC reported that some patients have relapsed and had to be hospitalized a second time, with readmissions occurring from as few as five days to as many as 55 days after initial discharge.
E-cigarette manufacturers have advertised their products as a better option for adult smokers who are already hooked on nicotine. For thousands of young people who have never smoked, however, vaping plays the opposite role: It establishes a nicotine addiction that will ultimately lead to cigarette smoking.