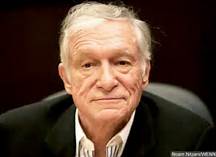 Playboy founder and icon Hugh Hefner died on Wednesday evening at the age of 91.  Hefner passed of natural causes at his home, the famed Playboy Mansion in Los Angeles, surrounded by loved ones.  Playboy began on Hefner's kitchen table 64 years ago and spawned an empire that encompasses print and digital publications, merchandise and other portfolio companies.  After leaving his job as a copywriter for Esquire magazine, Hefner put up his furniture as collateral for a loan, raising money from various investors and borrowing the rest from family and friends.  He published the very first issue of Playboy in December of 1953 which featured Marilyn Monroe on the cover.
For decades, Playboy was the most successful men's magazine in the world and the company branched into movie, cable and digital production, sold its own line of clothing and jewelry, and opened clubs, resorts and casinos.  Playboy Enterprises' chief executive, Scott Flanders, acknowledged that the internet had overrun the magazine's province causing the brand to fade over the years with its magazine's circulation declining to less than a million.
In 2012, Hefner announced that his youngest son, Cooper, would likely succeed him as the public face of Playboy.  Mr. Hefner remained editor in chief but in 2016, he handed over creative control of Playboy to his son Cooper Hefner.
Hefner is survived by his wife Crystal, and four grown children from his two previous marriages.  Over the years, Hefner became known and highly criticized for moving an ever-changing group of young women into the Playboy Mansion.  His reputation was highly criticized and overshadowed the fact that he staunchly advocated freedom of speech in all its aspects, for which he won civil liberties awards. He supported progressive social causes and lost some sponsors by inviting African-American guests to his televised parties at a time when much of the nation still had Jim Crow laws.
In 1966, during the civil rights era, Hefner sent African-American journalist Alex Haley to interview George Lincoln Rockwell, founder of the American Nazi Party-who has been described as the "American Hitler".   Rockwell agreed to meet with Haley only after gaining assurance from the writer that he was not Jewish though Rockwell kept a handgun on the table throughout the interview.
Hefner was also a philanthropist who donated $100,000 to the University of Southern California's School of Cinematic Arts to create a course called "Censorship in Cinema", and $2 million to endow a chair for the study of American film.  Through his charitable foundation, Hefner contributed to many charities and threw multiple fundraiser events for Much Love Animal Rescue. In 1978, he helped organize and raise funds for the restoration of the Hollywood sign and in 2010, Hefner donated the last $900,000 sought by a conservation group for a land purchase needed to stop the development of the famed vista of the Hollywood Sign.  Children of the Night founder and president Dr. Lois Lee presented Hefner with the organization's first-ever Founder's Hero of the Heart Award in appreciation for his unwavering dedication, commitment and generosity. He also supported legalizing same-sex marriage, and he stated that a fight for gay marriage was a fight for all our rights.