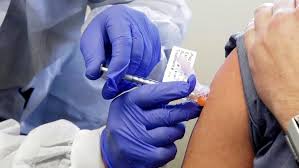 Physicians caution that amid a desire to put an end to the Covid-19 pandemic, developers of drugs and vaccines have become overly enthusiastic about the chances their products will work.  Several vaccine developers have issued statements looking into the future — setting possible timetables for study completion and vaccine manufacturing.
Biotech company Moderna said early trials of their coronavirus vaccine show promising results as volunteers developed antibodies against the virus. Eight people took part in the study. The company, which is developing the vaccine with the National Institutes of Health, says it will move on to larger-scale trials and that a vaccine could be made available as soon as January.   Moderna is collaborating on its vaccine development with the National Institute of Allergy and Infectious Diseases. Dr. Anthony Fauci, the director of NIAID, said while Moderna's numbers were limited, "it was good news" and he was "cautiously optimistic" about the vaccine.
According to the World Health Organization (WHO), there are currently over 100 vaccine efforts underway around the world.  There are 10 vaccines in human clinical trials worldwide. There are four teams in the United States: Moderna, Pfizer, Inovio and Novavax.  Five Chinese companies have vaccines in human trials. University of Oxford is the only team in Europe currently running trials.  Inovio and Moderna have said they expect their large-scale clinical trials, known as Phase 3 trials, to last around six months. Pfizer hasn't given a timetable for its Phase 3 trial.  Worldwide, there are 114 more candidates in pre-clinical trial stages.
One big stumbling block for any vaccine trial is that Covid-19 infection rates in many areas of the world are flattening out or declining. The point of Phase 3 is to vaccinate people and then see if they naturally become infected, and with lower rates of circulating virus, the study subjects are less likely to be exposed to the virus in the first place.  For a vaccine clinical trial to be successful, there needs to be sufficiently high levels of the virus circulating in the community. If there isn't enough virus around, it will be impossible to tell if the vaccine protected the study subjects, or if they were just never exposed to the virus.
The global effort to develop a vaccine is just the beginning of this race. It also takes time to ramp up vaccine production and deciding how it will be distributed will be difficult in a world of more than 7 billion people.  New drugs and vaccines traditionally go first to the wealthiest countries and that's the expectation in this case as well. But the exact order could depend on where the vaccine is first developed and what that countries priorities are in distribution.  Wealthier countries have been hit hardest by the virus so far. But in many of these nations, COVID-19 cases are leveling off or declining, while they are rising rapidly in the developing world, including countries such as India, Brazil and Peru.  Nations and drug companies are likely to face a range of conflicting pressures with the need to provide the vaccine at home and intense scrutiny to share it widely, fairly and cheaply abroad.