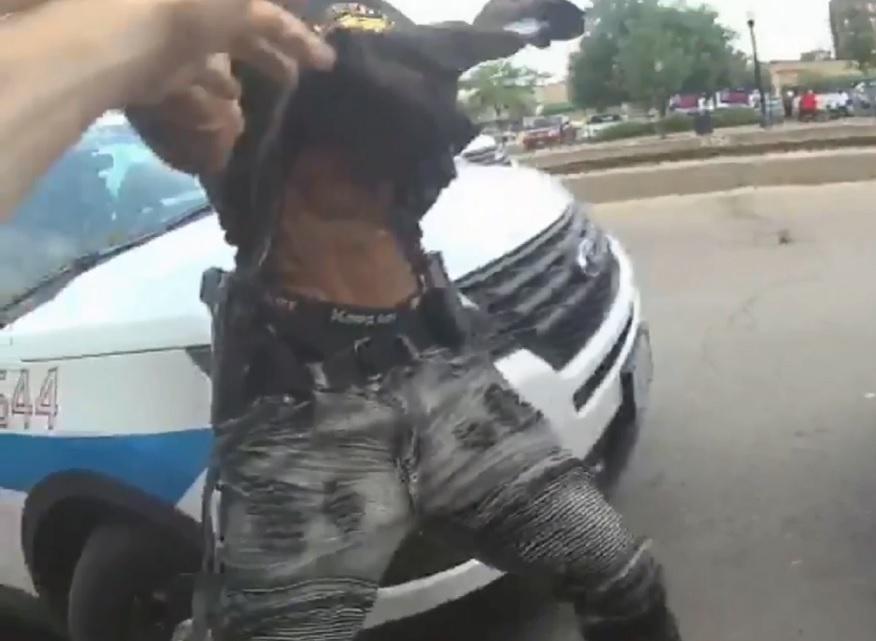 Violent protests erupted in Chicago after police officers shot and killed a 37-year-old African-American man on the South Side of Chicago. Harith Augustus was a well-known barber and the father of a 5-year-old daughter. Hundreds took to the streets to protest his killing.  Protesters and police clashed with protestors throwing rocks and bottles, some filled with urine at officers.  Four people were arrested, several officers were treated for minor injuries and two patrol cars were damaged.
The day after the protests, police released a 30 second clip with no sound of an officer's body-cam footage.  Police Superintendent Eddie Johnson said it was the quickest he had ever ordered such video released and that he hoped to dispel rumors Harith Augustus, 37, was unarmed.  He also said he hoped making the 30-second clip public would prevent another violent confrontation between residents and officers.  "The community needs some answers and they need them now, we can't have another night like last night."  Mr Johnson told reporters.  He said Mr Augustus's family was in favor of releasing the video for the same reason.
The edited clip of body camera video shows at least three officers approaching Augustus as he is talking to another officer outside a store in the city's South Shore neighborhood.  The first officer points at his waistband and Augustus backs away while reaching into his back pocket.  As Augustus pulls his wallet from his pocket, three officers try to grab his arms.  Augustus tries to get away, backing into a police cruiser as his shirt flies up, showing the gun.  The footage pauses and zooms in on the weapon, which police spokesman Anthony Guglielmi said was done to ensure a semi-automatic handgun in its holster and two bullet magazines tucked into Mr Augustus's waist could be seen clearly.
Augustus then runs into the street as a police SUV drives up. He spins away from the SUV and darts between the SUV and the police cruiser as he reaches towards his waist.  At that point, an officer opens fire, hitting Augustus multiple times.  Augustus did not fire his weapon and the footage does not show him pulling the gun out of its holster.  Police also released a 50-second, slow-motion clip showing Augustus reaching towards his waist. It was not clear if he was going for the weapon but it does appear he was grabbing for something at his waist.
Records show Augustus had a legal permit to carry a firearm and no recent arrest history. Augustus was known in the Grand Crossing neighborhood as "Snoop" — worked at a barbershop and had a five-year-old daughter.  A police spokesman said more videos will be released within 60 days but declined to say how many different angles exist or whether any of the officers' cameras captured audio.
While the snippet of video released seems to have calmed some tensions, some pointed out that Augustus, a quiet man with only a few minor arrests from years ago, appeared to be trying to show the officers some sort of identification during the street stop, possible his firearm permit.  Experts on use of force have focused on how Augustus tried to evade arrest, twisting away from officers and fleeing into the street with his right hand hovering near his holstered gun.  The Civilian Office of Police Accountability, the city agency that investigates police-involved shootings, will try to determine if the officers followed policy and if any training issues need to be addressed.