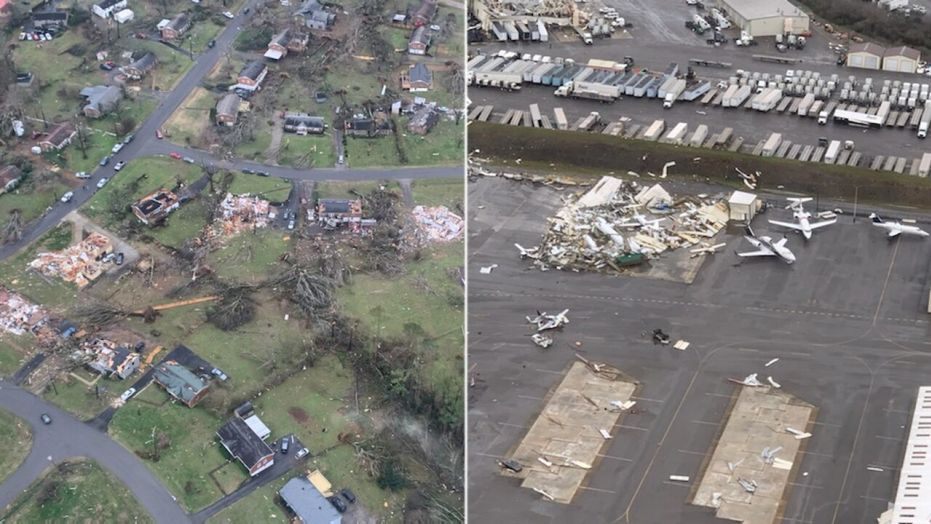 Powerful tornadoes ripped through Tennessee, killing at least 24 people and injuring at least 85 more in the Nashville area.  Emergency crews in Putnam County, Tennessee, where 18 of the deaths occurred-combed through shattered homes and collapsed buildings, searching for victims more than 36 hours after at least two tornadoes touched down in the middle part of the state.  A state of emergency was declared in Tennessee as a result of the damage. 
Damage was sustained in at least four counties in the path of the storms. Officials said that one long-track tornado produced damage that peaked at EF3 strength along a 50-mile-long corridor from Nashville east to near Gordonsville.  Among the victims in Putnam County are children aged 2 to 13 years old, and several of the deceased are related to each other.  Four families lost multiple people. Besides the victims in Putnam County, a total of four people were killed in Wilson County, two in Davidson County, which is home to Nashville, and one in Benton County.
More than 73,000 homes and businesses were without power in four counties, the state emergency agency said. Nashville Electric said that four substations and 15 primary distribution lines were damaged. Overturned tractor-trailers blocked stretches of Interstate 24 near Antioch and Interstate 40 near Mt. Juliet after the storm.  Dozens of buildings collapsed as the winds reached at least 155 mph — EF-3 tornado level — in Mount Juliet and Donelson.
The damage stretched far beyond Nashville and across several counties. Tornadoes were reported several times along a 145-mile stretch, including in the small city of Camden just after 11 p.m. CT; in Nashville after midnight; and in the Cookeville area in Putnam County shortly before 2 a.m., the National Weather Service said.  The tornado touched down near Highway 70 near Baxter and traveled to just before Willow Avenue in Cookeville, Porter said. The hardest hit areas include Charleton Square, Plunk Whitson, Echo Valley, Prosperity Point, North Mcbroom Chapel, and Double Springs Utility District.