3 months ago
·
by
HealthInsurance4Everyone
·
Comments Off

on UFCW Criticizes Reopening Meat Packing Plants Without Mandatory Safety Guidelines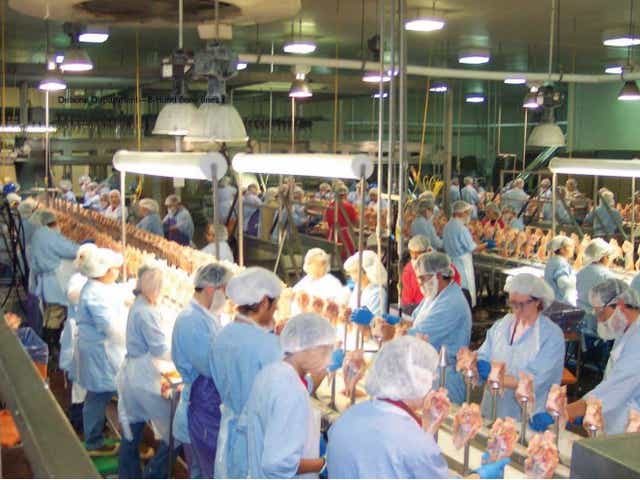 The United Food and Commercial Workers Union, the country's largest meatpacking workers' union, is condemning the reopening of 14 meatpacking plants under a recent executive order by the US Administration.  The union is calling for CDC coronavirus safety guidelines to be made mandatory, as at least 30 meatpacking workers have died of COVID-19 and over 10,000 have been exposed to or infected by the coronavirus. The industry work practices under normal circumstances tend to put workers in close proximity to each other, working at high speed as they cut up animal carcasses.
The pandemic caused at least 30 meatpacking plants to temporarily close over the past two months, resulting in a 40% drop in pork production capacity and a 25% drop in beef production capacity, the union said.  The U.S. Agriculture Department said 14 plants that had closed due to outbreaks of the virus were in the process of reopening this week.  The 14 plants included a Smithfield Foods Inc pork facility in Sioux Falls, South Dakota, that started operating on May 7 and another in Waterloo, Iowa, that Tyson Foods said earlier in the week would resume limited operations.  The agriculture department also said meat facilities operated by JBS USA [JBS.UL] in Minnesota and Wisconsin, and six other Tyson plants were reopening.
UFCW has previously said more protective equipment and testing would be required to open the plants.  But as plants reopened without these measures in place, UFCW International President Marc Perrone criticized the decision.  "Today's rush by the Trump Administration to re-open 14 meatpacking plants without the urgent safety improvements needed is a reckless move that will put American lives at risk and further endanger the long-term security of our nation's food supply.  Since the executive order was announced, the Administration has failed to take the urgent action needed to enact clear and enforceable safety standards at these meatpacking plants."
Health guidelines issued by CDC and OSHA to help reduce the spread of Covid-19 in slaughterhouses includes face coverings, health training in multiple languages, and more distancing between workers. Processing lines in meat plants typically run at high speeds, with employees eviscerating animals inches apart from each other. Slowing lines down and spreading workers out will undoubtedly increase the cost of producing meat, but Perry says it's a small price to pay to protect their lives.  CDC is also asking meat plants to do away with the contentious practice of offering "attendance bonuses," in which companies offer hundreds of dollars of incentives to workers on the condition that they don't miss their shifts.
The common criticism of OSHA and CDC's Covid-19 guidance to meatpackers is that it's entirely optional. This has resulted in an inconsistent patchwork of protections by plant and by state which leaves workers at risk for other outbreak.  Unions are asking for standardized workplace protections against airborne diseases like Covid-19.  Such requirements wouldn't be without precedent.  In 2010, following the H1N1 pandemic, OSHA began to draft mandatory guidelines to reduce the spread of viruses that spread through air and respiratory droplets.  That rulemaking was finalized in 2017 but was halted during the change in US Administration.