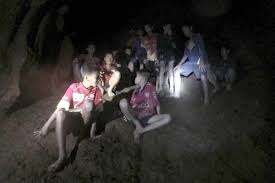 In Thailand, rescuers raced to free 12 members of a youth soccer team and a coach who had been trapped in a flooded cave for nearly three weeks.  Divers found the teammates and coach alive, but had been unable to rescue them.  In the last 18 days, a local search for the missing 13 turned into a complex rescue operation, involving hundreds of experts who flew in from around the world to help in the rescue efforts.  The rescue has been a race to extract the boys and their coach ahead of monsoon rains that could haved flooded the cave completely.  Cave experts grappled with the problem of how to free the young, malnourished boys, some of whom couldn't swim, from a flooded cavern as monsoon rains threatened to raise water levels even further.  The boys received a crash course in swimming and the use of SCUBA gear.
The final boy and his coach rescued Tuesday are still being treated at an on-site medical center, while three other boys have been transported to a nearby hospital where eight of their teammates are recuperating after being rescued Sunday and Monday.  Nineteen divers entered the cave at 10 a.m. local time Tuesday (11 p.m. Monday ET), many on their third mission in three days, with the aim of bringing everyone inside the cave out.  Tuesday's rescue efforts took nine hours from the time the divers entered the cave to bringing out the boys and their coach.
Divers involved in the rescue described dangerous conditions involving fast-moving shallow water passing through very narrow passages. Poor visibility, razor sharp rocks and narrow passages made the rescue very tricky.  As rain threatened to hamper what was already a complicated rescue mission it became clear the boys were going to have to dive out  Officials scrambled to find full-face oxygen masks small enough to fit the boys and experts were sent in to teach them how to use scuba gear.
Two days before the first four boys were rescued, officials warned that oxygen levels within the cave had fallen to 15%.  The "optimal range" of oxygen needed in the air a person breathes in order to maintain normal function is between 19.5% and 23.5%.  Such low levels creates the risk of hypoxia, a condition that causes altitude sickness.
During the hours-long trip out of the cave, each boy was accompanied underwater by two divers helping them navigate the dark, murky water. The most dangerous part required the divers and boys to squeeze through a narrow, flooded channel. Rescuers had to hold the boys' oxygen tanks in front of them and swim pencil-like through submerged holes. Once they completed this section, the boys were then handed over to separate, specialist rescue teams, who helped assist them through the remainder of the cave, much of which they can wade through.
All the boys rescued are being treated in an isolation ward in a Chiang Rai hospital. Medical officials told reporters that they're healthy, fever-free, mentally fit and "seem to be in high spirits."  They will remain in insolation until the risk of infection has passed.  Parents of the boys have been able to see their children through a glass window and talk to them on the phone. They'll be allowed to enter the room if tests show the boys are free of infection.
The permanent secretary of the Thai Health Ministry, said the first group of boys taken out on Sunday were aged 14 to 16. Their body temperatures were very low when they emerged, and two are suspected of having lung inflammation.  The second group freed on Monday were aged 12 to 14.  Authorities will look for signs of Histoplasmosis, also known as "cave disease," an infection caused by breathing in spores of a fungus often found in bird and bat droppings.  They are all likely to stay in hospital for seven days due to their weakened immune systems.