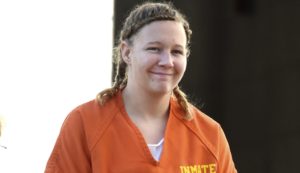 Accused NSA whistleblower Reality Winner has pled guilty to retaining and transmitting a document to a news organization after reaching a deal with the U.S. government to serve a 5-year prison sentence. Winner had faced up to 10 years in prison on charges she violated the Espionage Act by leaking a top-secret document to The Intercept about Russian interference in the 2016 election.  She's been imprisoned for the last year at the Lincoln County Jail in Georgia.
Winner, a former Air Force linguist, was arrested last June and accused of sharing a classified report about Russian interference in the 2016 election with the news media.  Ms. Winner, who was honorably discharged from the Air Force in 2016, was working as a contractor for the National Security Agency when she obtained a copy of a report that described hacks by a Russian intelligence service against local election officials and a company that sold software related to voter registration.
The Intercept, an online news outlet that a prosecutor said Ms. Winner admired, published a copy of the top secret report shortly before Ms. Winner's arrest was made public. The report described two cyberattacks by Russia's military intelligence unit, the G.R.U. — one in August against a company that sells voter-registration-related software and another, a few days before the election, against 122 local election officials.
An F.B.I. affidavit made public after her arrest last year said there was a visible crease mark on the file, a scan of which The Intercept had provided to the government while trying to authenticate it. That prompted investigators to surmise it was a printout.  Audit trails showed six people had printed copies, but only one — Ms. Winner — had used a work computer to send emails to The Intercept.
A search warrant application said she had found the report by plugging keywords into the N.S.A.'s system that fell outside her normal work duties.  Computer security experts noted that the printer appeared to leave barely visible microdots on the printout identifying the serial number of the printer and the date and time of the printing: 6:20 a.m. on May 9, 2017.
The Justice Department prosecuted Ms. Winner under the Espionage Act, a World War I-era law that criminalizes the unauthorized disclosure of national-security secrets that could be used to harm the United States or aid a foreign adversary.  Her decision to plead guilty to one felony count allows the government to avoid a complex trial that had been scheduled for October.
Winner is the second person known to have reached a plea agreement in a leak prosecution case under the current administration.  Former F.B.I. agent, Terry J. Albury, pled guilty in April, but prosecutors in that case have hinted that they will ask that he serve 46 to 57 months in prison.  The Justice Department has recently filed charges in at least two other leak-related cases.  James Wolfe, a former Senate Intelligence Committee staff member, was arrested and charged with lying to the F.B.I. about his contacts with reporters, including a Times reporter with whom he had a personal relationship and whose phone records the department secretly seized, during a leak investigation.  In another case, Joshua A. Schulte, a former C.I.A. software engineer, was charged with violating the Espionage Act and other laws based on accusations that he sent a stolen archive of documents and electronic tools related to the agency's hacking operations to WikiLeaks, which called them the Vault 7 leak.