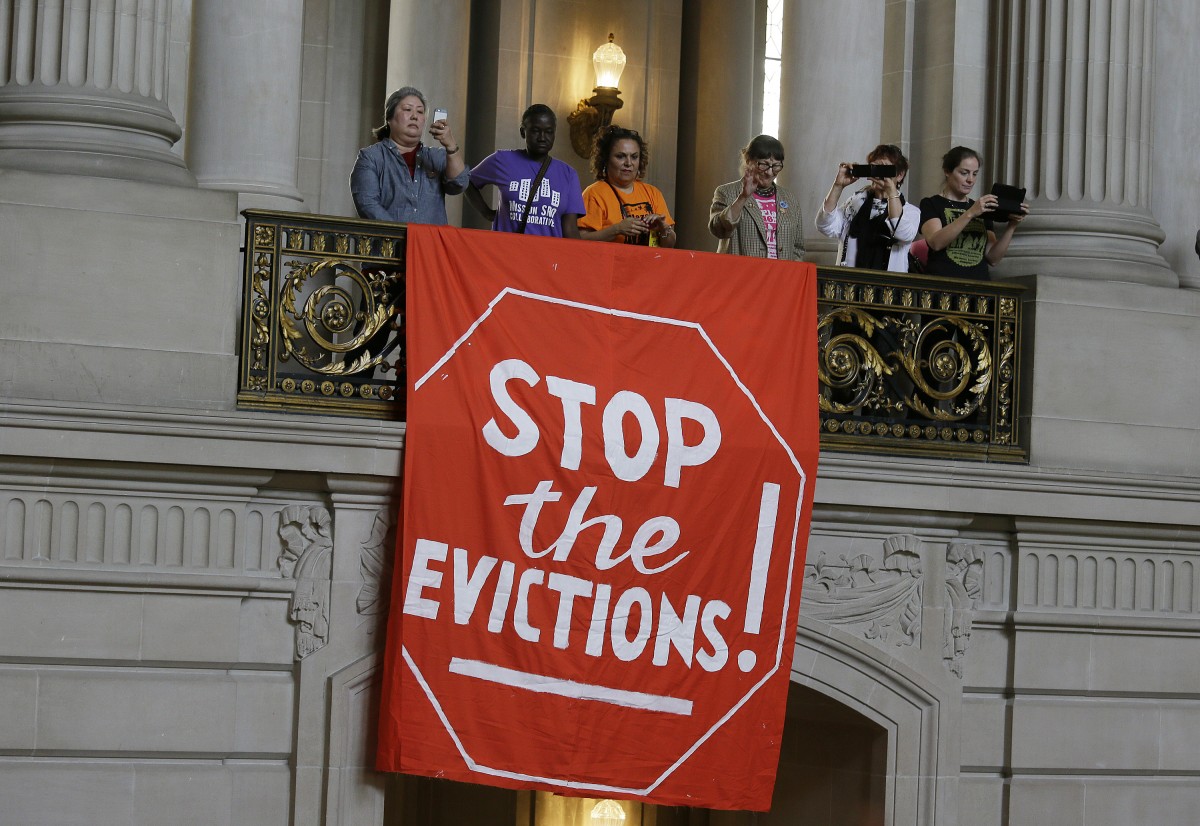 Housing activists across the country are demanding local protections against evictions during the pandemic. Many states have faced criticism for resuming evictions as millions of people are still out of work, many who still have children at home until the school year starts. Many companies have closed their doors indefinitely, taking jobs with them across the US. While some states and counties issued eviction moratoriums, they have expired and thousands face homelessness.
In New Orleans, members of the Renters Rights Assembly surrounded a courthouse that handles evictions, chaining themselves together under a banner reading "Evictions = Death," and blocking several landlords from entering the building. In Maryland, more than 100 protesters marched through Mayor Tom Barrett's neighborhood demanding a moratorium on evictions and other forms of housing protections. Beyond standard legal protections, tenants in Maryland have an extra layer of protection against eviction during the pandemic: an executive order from Governor Larry Hogan prohibits eviction so long as the state remains under the state of emergency — and so long as the tenants can prove that their income has been significantly impacted by COVID-19. A second layer of protection, a pause on eviction-related hearings in Maryland courts, expired on July 25.
In Missouri, protests brought proceedings to a halt at a Kansas City eviction court. All spring KC Tenants demanded relief for Kansas City renters left vulnerable by the coronavirus pandemic. They organized — virtually and in person — to shut down the state eviction court proceedings at the Jackson County Courthouse. KC Tenants leaders pledged to keep shutting down the eviction docket until they see action to protect vulnerable residents. "If our so-called leaders continue to lead our tenants into death digitally, online, via phone or even in person, we are going to continue to shut it down until we get what we want," Mason Andrew Kilpatrick said in front of the courthouse. In St. Louis, protestors gather outside city hall for an "anti-eviction rally" heavily criticizing the court's decision to restart evictions. "People aren't working. People don't have money," said Sarah Watkins, a rally organizer with Action STL. "People haven't paid rent since the pandemic began in April. People will be on the street."
In Milwaukee, a march was organized by the Milwaukee Autonomous Tenants Union to demand help for the many families still out of work due to the coronavirus pandemic. Gov. Tony Evers' statewide ban on evictions expired two months ago and now, between 150 and 170 people are being evicted from their homes in Milwaukee every week. The state ($25 million), Milwaukee County ($10 million) and City of Milwaukee ($15 million) have poured millions into rental assistance programs, but advocates say vulnerable tenants need added protections. "The rental assistance is good, but it's not enough," said protest organizer Robert Penner. "It's very slow, the systems are backlogged, and they're over-saturated with cases. A lot of people lose their home before they can even get in contact" with such programs, he said.
Houston Mayor Sylvester Turner announced a second round of $15 million in rental assistance for people financially struggling during the COVID-19 recession Friday, one day after he declined to support a city-mandated eviction grace period for tenants to catch up on past-due payments. More than 3 million Texans have applied for unemployment benefits since the pandemic began. They have also relied on federal benefits from a congressional pandemic relief package, eviction moratoriums and rent assistance programs to remain housed.