3 months ago
·
by
HealthInsurance4Everyone
·
Comments Off

on Protests Erupt Again As Michigan Governor Extends Orders to May 28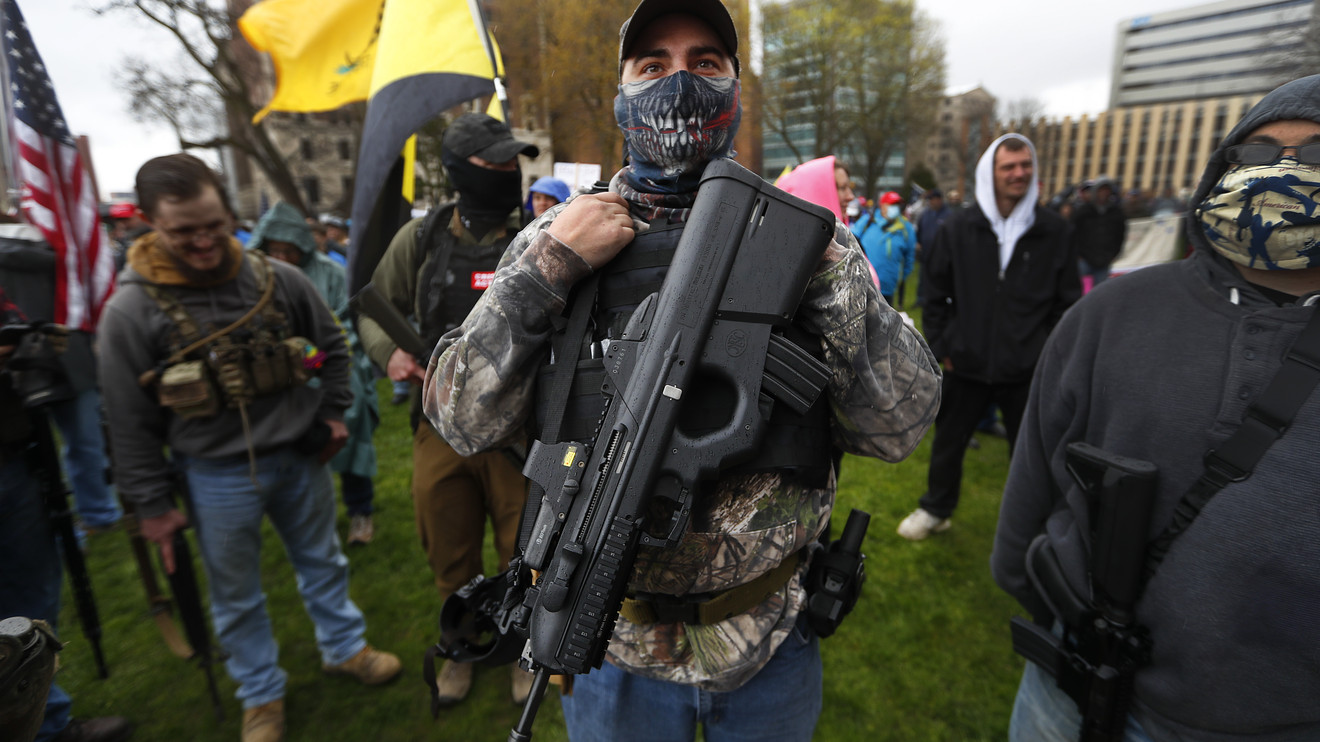 Michigan Governor Gretchen Whitmer extended a state of emergency declaration until May 28, over the objections of some state lawmakers.  Whitmer signed a series of executive orders hours before the state of emergency was set to expire on April 30 and extended it to May 28, citing the growing number of cases and deaths in the state from the disease. The governor said that in some counties in western and northern Michigan, cases are doubling every six days or faster.
When the order was extended, the state had 41,379 confirmed COVID-19 cases and 3,789 deaths, according to data from the Center for Systems Science and Engineering at Johns Hopkins University. Wayne County, Michigan, is the fourth-highest county of deaths in the nation with 1,782 coronavirus-related fatalities, according to the data.
Whitmer has faced fierce backlash for her strict stay-at-home mandate.  She extended the order earlier this month until May 15 but eased some restrictions on public activities as the state's coronavirus cases stabilize.  Whitmer said that while she understands that people are anxious to get back to work and are restless, Thursday's protests were "disturbing. … Swastikas and the confederate flag, nooses and automatic rifles do not represent who we are as Michiganders.  There is nothing that I want more than to just flip the switch and return to normal, but that's not how it's going to work, unfortunately. The only way we can get through this and take the next steps forward is if we all continue to do our part."
Hundreds of people protested outside the Michigan Capitol building in Lansing-defying social distancing rules, many of them armed with assault rifles and wearing tactical gear.  The crowd packed into the Capitol rotunda and tried to storm onto the floor of the legislative chamber.  Protesters held signs, waved American flags and even carried firearms, while some chanted "Let us in!" and "This is the people's house, you cannot lock us out." Others tried to get onto the House floor but were blocked by state police and sergeants-at-arms.
The House and Senate had voted to approve legislation that would allow them to sue Whitmer over her emergency declarations as armed protesters stormed the state capitol.  They also voted on another bill that would extend some of her emergency measures, but crucially not the stay-at-home order. Their bill would also allow restaurants, bars and gyms to reopen. Whitmer vowed to veto the bill.  Amid the chaos Democrat Senator Sylvia Santana was pictured wearing a bulletproof vest and surgical mask while at her desk, as a colleague tweeted an image of rifle-wielding men on a balcony above her.
The governor is claiming authority to rule by executive order under two pieces of legislation – the 1976 Emergency Management Act and a similar 1945 law that allows a governor to declare a state of emergency and assume emergency powers.  Arguments center around the fact that the 1976 law says governors must go to the Legislature if they want to extend the state of emergency past 28 days. The 1945 act says governors decide when the emergency is over.
Whitmer's extended order bans gyms, theaters, bars and casinos from opening, and limits restaurants to carry-out and delivery orders only.  Restaurants can allow up to five people inside at a time to pick up orders, but only if they follow social distancing guidelines by staying six feet apart.  The restrictions do not apply to office buildings, grocery stores, markets, food pantries, pharmacies, drug stores, medical equipment/supplies providers, health care facilities, residential care facilities, juvenile justice facilities, warehouse and distribution centers, or industrial and manufacturing sites.