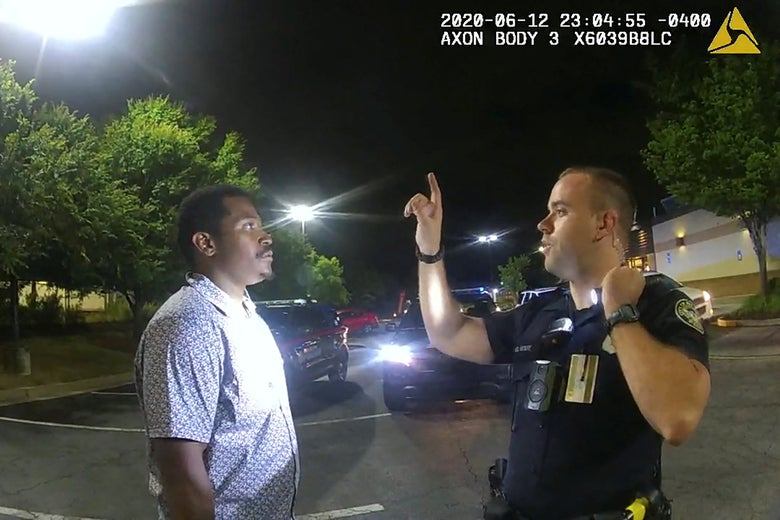 Protests intensified in Atlanta after a police officer shot 27-year-old Rayshard Brooks in the parking lot of a Wendy's fast-food restaurant.  The encounter was caught on surveillance camera and by a witness. Police approached Brooks after he had fallen asleep in his car. The police questioned Brooks, patted him down and gave him a breathalyzer test.  Witness videos, surveillance footage, bodycam and dashcam footage show the officers engaged Brooks without incident for 41 minutes before the encounter turned fatal.
Atlanta Police Department officer Devin Brosnan arrived at the Wendy's restaurant to investigate a report of a man asleep in a car which was blocking the drive-through lane.  Brosnan awakened Brooks and told him to move the car to a parking space and take a nap.  Brooks fell asleep again without moving the car prompting Brosnan to again wake Brooks and instruct him to park the car.  Brosnan checked Brooks's driver's license and radioed for assistance from an officer certified to conduct driving under the influence investigations.  Officer Garrett Rolfe arrived at 10:56 and, with Brooks's permission, performed a pat-down search for weapons, a field sobriety test, and a breathalyzer test.  Brooks appeared impaired and said he had consumed one to one-and-a-half drinks and denied driving or being too drunk to drive. The Breathalyzer registered a blood alcohol level of 0.108%, above the legal limit of 0.08%.  Brooks asked to leave his car in the parking lot overnight and walk to his sister's house a short distance away.
At 11:23, Rolfe told Brooks: "All right, I think you've had too much to drink to be driving. Put your hands behind your back for me"; he and Brosnan then moved behind Brooks to handcuff him.  Brooks tried to break free and he and the officers scuffled on the ground. During the struggle Brosnan drew his Taser, but Brooks wrested from him and fired it toward Brosnan before attempting to run away.  Brosnan says the Taser contacted him and he struck his head on the pavement.  Rolfe drew his own Taser and shot Brooks with it.  Brooks fled through the parking lot with Brosnan's Taser still in hand as Rolfe pursued him and fired again with his own Taser.  While still running, Brooks turned to fire the second shot of Brosnan's Taser – capable of two shots before being reloaded – over Rolfe's head.  According to prosecutors, Brooks and Rolfe were 18 feet apart when Rolfe dropped his Taser, drew his handgun and shot Brooks once in the mid-back and once in the buttocks; a third shot struck a nearby vehicle, narrowly missing its three occupants.  According to prosecutors Rolfe then declared, "I got him".
Within 24 hours of the shooting, Mayor Keisha Lance Bottoms said that she did not believe it was justified, leading to Rolfe's firing, Brosnan being placed on administrative duty and the resignation of the city's police chief, Erika Shields.  The county medical examiner rule Brooks' death a homicide and Georgia Bureau of Investigation opened an investigation.  The Fulton County District Attorney said Brooks did not present himself as a threat and appeared almost jovial during the encounter.  He announced 11 charges against Rolfe: felony murder, five counts of aggravated assault, four police oath violations, and damage to property.  He said Rolfe should have been aware that the Taser Brooks had taken posed no danger, as after being fired twice it could not fire again.  He also said that Rolfe and Brosnan did not provide timely medical aid to Brooks and that before they did, Rolfe kicked him and Brosnan stood on his shoulders.  The district attorney said it was a violation of department policy for Rolfe to begin handcuffing Brooks before telling him he was being arrested.