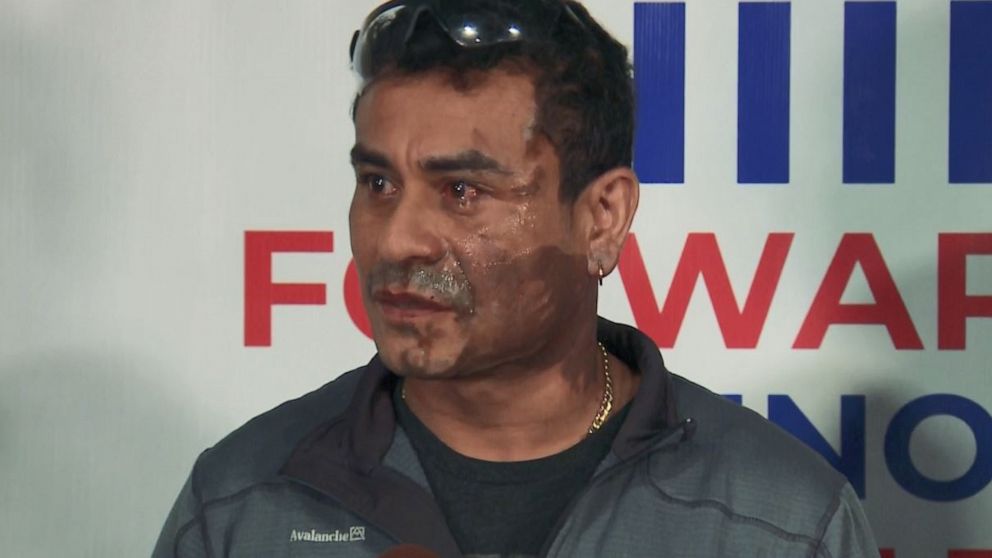 A Milwaukee man faces a felony hate-crime charge for an alleged acid attack on a man who says he was targeted for his Latino identity and left with second-degree burns.  Clifton Blackwell, 61, has been charged with first-degree reckless injury in a hate crime using a dangerous weapon.  Reckless injury carries up to 25 years in prison and $100,000 in fines. Prosecutors are pursuing hate crime and dangerous weapon enhancements charges which means Blackwell could face stiffer penalties, including up to 10 more years' imprisonment.
At a news conference the day after the assault, Mahud Villalaz, 42, said he parked his truck outside a restaurant at 8:30 p.m. and began to walk toward it to have dinner when a man at a nearby bus stop approached him and chastised him for parking in a bus lane.  Villalaz said, the man asked why he'd "invaded" the United States and said "Why don't you respect my laws?"
Realizing he was parked too close to a bus stop, Villalaz moved his truck to another spot and headed toward the restaurant.  Blackwell re-engaged him saying "Why did you invade my country?" calling Villalaz an "illegal" and cursing at him while telling him to "go back."  He told Blackwell that "everyone comes from somewhere first" and pointed out that "American Indians have been in the country the longest," court filings state.  Villalaz said that's when Blackwell got angry and tossed the acid, which was in a small silver bottle, in his face. The attack was caught on surveillance video.
Villalaz was taken to the hospital with second-degree burns to his face, cheek and neck, as well as damage to his clothing, according to police. Testing showed that acid caused the injuries.  The attack took place just outside the restaurant doors.  Witnesses say Villalaz, a regular at the restaurant, burst through the doors crying with his face searing with acid.  The restaurant staff tried everything to wash the acid from his face until paramedics arrived.
Villalaz, who says he grew up in Peru and immigrated to the United States as a young man – became a citizen in 2013.  He said he felt relieved charges were filed and thankful at the nationwide support he's gotten.  "It's been nice to know that there are many people here that worry about other people. Not only Latinos … people of all colors. We must unite," Villalaz said.
During a search of Blackwell's home, police found hydrochloric acid, four bottles of sulfuric acid and two bottles of drain opener made of lye, according to court documents.  Blackwell's bond has been set at $20,000 on the condition that he wears an electronic monitoring device. He is also forbidden from contact with acids or large batteries.  Court records indicate Blackwell has previously been convicted of false imprisonment and pointing a gun at a person.
According to the criminal complaint, on Nov. 19 2006, Blackwell confronted four men, two with rifles, who had come onto his farm tracking deer in the Town of Lawrence.  Blackwell pointed a loaded rifle at the men and told them to disarm, then marched them back to his house where he photographed their faces and hunting tags.  He told them they were guilty of criminal trespass and called the sheriff's office but wound up charged himself. Prosecutors dropped one of each of the charges, and Blackwell pleaded no contest to one count each of pointing a firearm and false imprisonment. He was sentenced to 379 days in jail.  Blackwell's mother said he had served in the Marine Corps during the U.S. invasion of Panama in 1989 and had moved back to Wisconsin for treatment for PTSD type problems.  Officials with the Marine Corps Manpower and Reserve Affairs office in Virginia said it could find no record of Blackwell ever serving in the Marines.