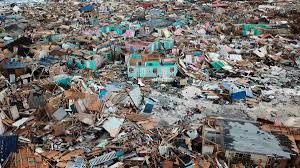 Hurricane Dorian ravaged the Bahamas, killing at least 50 people. As the clean-up operation continues, the death toll is expected to rise.  About 1,300 people are missing after Dorian, while at least 15,000 are in need of shelter, food and medical care.  Compounding the Bahamas' misery is a massive oil spill that's begun to spread into the ocean off the southern coast of Grand Bahama island after Hurricane Dorian blew the lids off six giant crude oil tanks.
Dorian was packing Category 5 winds with speeds of 185mph when it made landfall at Elbow Cay on the Abacos on September 1st.  It is the strongest hurricane to make landfall in the Atlantic basin since 1935. Rescue efforts were hampered as Dorian stalled, grinding in place for hours instead of moving back over open ocean.  It equaled the highest winds ever recorded for a hurricane at landfall when it struck the Abaco Islands.
On the Abaco island chain, which is less developed than the tourist areas of the country and populated by fishermen and Haitian migrants — thousands of homes are expected to have been damaged or destroyed.  A Redcross spokesman said it is believed that 13,000 houses — nearly half of all the homes on Grand Bahama and Abaco — suffered severe damage or were entirely destroyed.  During the storm, images showed profound levels of flooding and rainfall, with as much as 30 inches falling in some areas. The Grand Bahama International Airport in Freeport, the archipelago's second-largest city, was five feet underwater.
United Nations officials say that over 60,000 people on the two islands need emergency food access, and that around 62,000 need access to clean water. The main hospital on Grand Bahama is reportedly unusable, while the hospital on Abaco desperately requires food, water, and medical supplies.  The U.N. estimated that at least 70,000 people are homeless on Abaco and Grand Bahama.  More than 5,000 people have been evacuated from those islands to New Providence, where the country's capital Nassau is located.  The Minister of Health, Dr. Duane Sands, said 80 people with injuries were evacuated from the island of Abaco and five or six from Grand Bahama island. He said injuries ranged from broken bones to head injuries to "maternity-based issues." Sands said some among the dead succumbed to their injuries after being evacuated.  The Prime Minister encouraged parents to send their kids to school when they are evacuated to Nassau, and said the government would continue to provide food and healthcare.
The devastation wrought by Dorian after its day-and-a-half mauling of the Bahamas, left ravaged infrastructure that has impeded search and recovery efforts.  The islands remain a mess of splintered buildings, torn-off roofs, snapped power poles and scattered vehicles.  The hurricane destroyed the island's power grid and severed most communications, although occasional text messages were getting through in Marsh Harbor, the biggest town.  Risk modeler Karen Clark & Co. estimates that devastation from the storm could cost the country $7 billion in insured and uninsured losses.  The preliminary estimate combines damage to commercial, residential and industrial properties as well as business-interruption expenses, the company said in a report.  The figure doesn't include vehicle losses or damage to infrastructure.