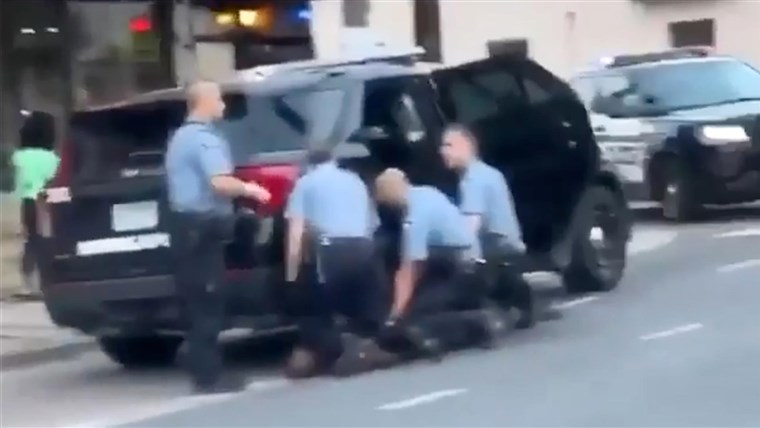 Protests erupted in Minneapolis, Minnesota after video footage of the death of George Floyd, 46, went viral. Floyd died after being arrested by police outside a shop on May 25th on a report he used a fake $20 bill to buy a pack of cigarettes from Cup Foods, a grocery store. The video shows now fired police officer, Derek Chauvin, kneeling on Mr Floyd's neck while he was laying on his stomach in the street with his hands cuffed behind his back. Floyd can be heard repeatedly saying "Please, I can't breathe, please, please officer don't kill me" for the 8 minutes and 46 seconds that Officer Chauvin held him pinned to the ground with his knee on the back of Floyd's neck.
In the video of the incident, a bystander tells the police: "You got him down. Let him breathe." After Floyd says, "I'm about to die," Chauvin tells Floyd to relax. The police ask Floyd: "What do you want?" Floyd repeats: "I can't breathe." Floyd continues: "Please, the knee in my neck, I can't breathe." The policemen taunt Floyd to "get up and get in the car," to which Floyd replies: "I will… I can't move." Floyd also cries out: "Mama!" He then says "My stomach hurts, my neck hurts, everything hurts," and requests water. The police do not audibly respond to Floyd. Floyd begs: "Don't kill me." A bystander points out that Floyd is bleeding from the nose. Another bystander tells the police that Floyd is "not even resisting arrest right now."
The day after Mr. Floyd's death, the Police Department fired all four of the officers involved and the Hennepin County attorney, Mike Freeman, announced murder and manslaughter charges against Derek Chauvin, the officer who can be seen most clearly in witness videos pinning Mr. Floyd to the ground. Chauvin kept his knee on Floyd's neck for eight minutes and 46 seconds, according to the criminal complaint against him. Video show that Chauvin did not remove his knee even after Mr. Floyd lost consciousness and for a full minute after paramedics arrived at the scene. Floyd's last words have been compared to those of Eric Garner who uttered the words "I can't breathe" eight times before he died while being placed in a chokehold by Officer Daniel Pantaleo in July 2014.
Derek Chauvin had 18 complaints over his 19 year career as a police officer with 2 resulting in disciplinary actions. Chauvin has been the subject of several internal complaints as well. George Floyd and fired police officer Derek Chauvin knew each other before the fatal encounter. Chauvin worked outside security at a bar for 17 years while Floyd worked security inside the bar. Floyd grew up in Houston Texas and 13 years ago in 2007 he was charged with armed robbery in a home invasion in Houston In 2009 he was sentenced to five years in prison as part of a plea deal, according to court documents. In 2014 he moved to Minneapolis looking for work and a new start. Videos he posted on social media while under stay at home orders show him denouncing violence and encouraging his community to find another way.
While the protests started in Minnesota, they quickly spread across the globe. Demonstrators gathered in London, France, Germany, Denmark, Italy, Syria, Brazil, Ireland, Poland, Mexico, Canada and New Zealand, among other places, to protest against police brutality in solidarity with the US crowds. Demonstrators have gathered in the thousands in many major cities worldwide. Many protestors remain peaceful but their message has been marred by the violence, looting and vandalism taking place in cities across the US.