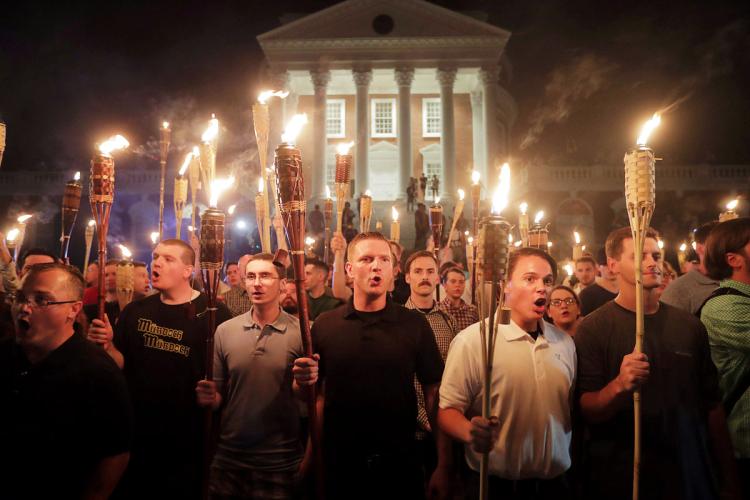 Federal prosecutors in Virginia have charged four white supremacists from California with conspiracy and inciting rioting at the deadly Unite the Right rally in Charlottesville in August of 2017.   Last year's protest left activist Heather Heyer dead after white supremacist James Alex Fields Jr. plowed his car into a crowd of peaceful counter-protesters.
Benjamin Daley, Thomas Gillen, Michael Miselis and Cole White are all members of a militant white supremacist group from California known as the Rise Above Movement, which espouses anti-Semitic views and meets regularly in public parks to train in boxing and other fighting techniques, according to an affidavit written by an FBI agent.  According to The Anti-Defamation League, the Rise Above Movement members believe they are fighting against a "modern world" corrupted by the "destructive cultural influences" of liberals, Jews, Muslims and non-white immigrants. Members refer to themselves as the mixed martial arts club of the "alt-right" fringe movement, a loose mix of neo-Nazis, white nationalists and other far-right extremists.
U.S. Attorney Thomas Cullen said each defendant faces a maximum of 10 years in prison if convicted on the two counts they each face: traveling to incite riots and conspiracy to riot.  The affidavit alleges the four men were "among the most violent individuals present in Charlottesville" in August of last year during a torch-lit march on the University of Virginia campus and a larger rally in downtown the following day. It says photos and video footage shows they attacked counter-protesters, "which in some cases resulted in serious injuries."  The men have also taken part in "acts of violence" at political rallies in Huntington Beach and Berkeley, California, and other places, the affidavit alleges.
Cullen said that the men also engaged in acts of violence in their home state of California at a series of political rallies, dubbing them "serial rioters."  At a news briefing, Cullen said "This is a group that essentially subscribes to an anti-Semitic, racist ideology, and then organizes, trains, and deploys to various political rallies, not only to espouse this particular ideology but also to engage in acts of violence against folks who are taking a contrary point of view."
A Los Angeles judge denied bail for Michael Miselis, finding that he posed a risk to the community.  Miselis' attorney argued for his release, detailing how his client got his master's at UCLA and worked as an engineer at Northrop Grumman for five years before being dismissed after his connection to Charlottesville became public.  Prosecutor David Ryan argued against bail for Miselis, saying agents found smoke bombs, flares, and thousands of rounds of ammunition, mostly for assault weapons, in his home, where he had a wall hanging that said "88," a common abbreviation for "Heil Hitler."  Ryan also said said Miselis, Daley and other members of their group also traveled to Germany and the Ukraine earlier this year and met with members of well-known violent white supremacy groups.
Cullen said investigators sifted through "an incredible volume" of video and still photographs to review the movements of the four men and determine whether they could claim they were only defending themselves after being attacked by others at the rally. He said prosecutors believe there was "no provocation" for them to engage in violence that day.  The four men, he said, made their way to the rally with their hands taped, "ready to do street battle."  Then they engaged in punching, kicking, head-butting and pushing, assaulting an African-American man, two women and a minister who was wearing a clerical collar, Cullen said.  Cullen also said a significant aspect of the case was that the four men had "extensive and robust" social media profiles and used social media to further their purposes.
We'd love to know what you think of this story.  Let us know your thoughts in the comments section!