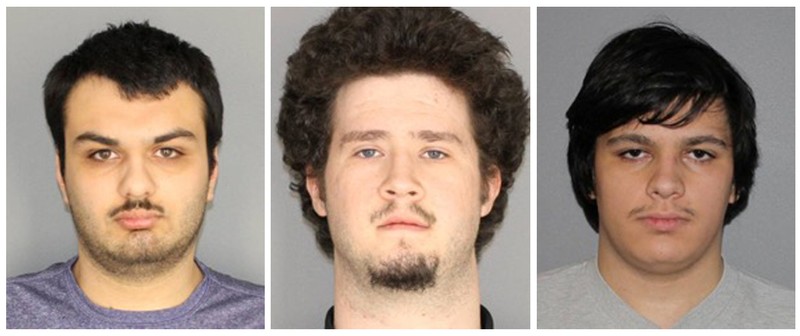 Three men and a teen were arrested for allegedly plotting to attack Islamberg, a small predominantly Muslim community near Binghamton, New York.  Brian Colaneri, 20, Vincent Vetromile, 19, Andrew Crysel, 18, were arrested along with a 16-year-old in connection to the alleged plot.  The suspects were said to be in possession of multiple improvised explosive devices and firearms, and were charged with criminal possession of a weapon and conspiracy.
Police uncovered the plot when the 16-year-old boy was reported to police in Greece, New York, for  making a lunchroom comment.  He allegedly showed another student a photo of a schoolmate who, he told others, looked "like the next school shooter."  While interviewing the boy about the comment he made investigators were told that he was allegedly working with three men to attack Islamberg.  Greece Police Chief Patrick D. Phelan said "The initial investigation was about the comment made by the student and then our investigation took us to this plot that we had no idea about.  I don't know that there was a specific date. They had a plan in place," Phelan said.
Phelan told reporters that three improvised explosive devices in the shape of mason jars wrapped in duct tape were found at the home of the juvenile.  "They were homemade bombs with various items – black powder, BBs, nails, inside a container," Phelan said.  The bombs are currently being examined by the FBI to see if they would have been capable of detonating.  Police searched five locations and seized 23 weapons and numerous electronic devices, including phones and computers.   Some of the guns were owned by the suspects and others were owned by family members but the suspects had access to them.
Colaneri, Vetromile and Crysel are each charged with three counts of criminal possession of a weapon in the first degree and one count of conspiracy in the fourth degree. Information about the 16 year old was not released by police due to his age.  Phelan credited the students who reported the lunchroom comment with saving lives.  "If they had carried out this plot, which every indication is that they were going to, people would have died," the chief said. "I don't know how many and who, but people would have died."
Islamberg is a rural community in Delaware County that is operated by The Muslims of America, an indigenous American Muslim organization based in the U.S.  It was settled by followers of Pakistani cleric Sheikh Mubarik Gilani in the 1970s to escape crime and crowding in New York City.  It's a gated community with dirt roads and several dozen small homes in New York's Catskills Mountains.  There are  200 or so members of the community, where children are home-schooled and residents worship at a mosque built on the 70-acre property.   Police and analysts have dismissed accusations that the community is a terrorist training ground, but the claims have persisted for decades.
This is not the first time Islamberg has been the target of an alleged hate crime plot.  In 2017, a Tennessee man was convicted on federal charges for what authorities called plans to burn down Islamberg's mosque in 2015. Robert Doggart, now 67, is serving a 20 year sentence in federal prison.  Doggart was arrested by Federal Bureau of Investigation agents in April 2015 after saying in wiretapped telephone calls that he planned to recruit a militia and travel to Islamberg for an attack.  While there, he intended to "carry out an armed attack" that included burning down a mosque or "blowing it up with a Molotov cocktail or other explosive device." The wiretaps also recorded him saying "I don't want to have to kill children, but there's always collateral damage."