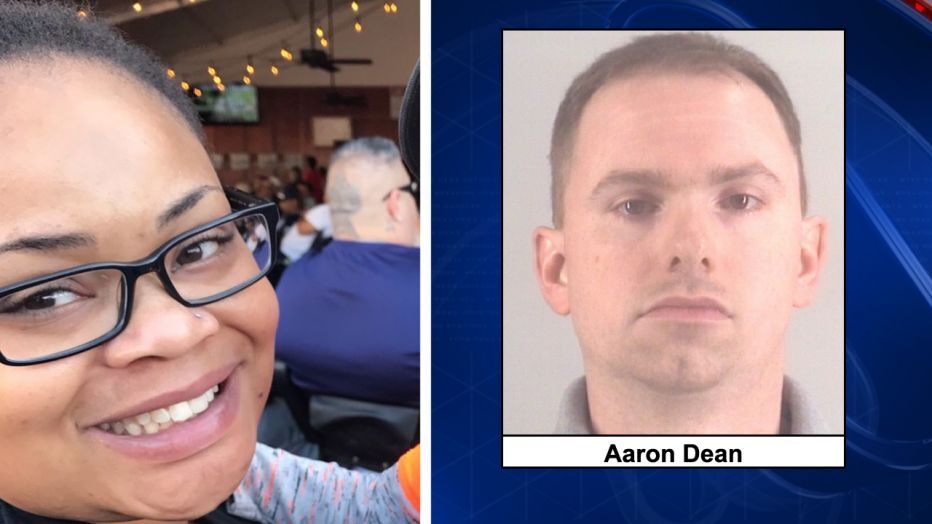 Fort Worth, Texas Police Officer Aaron Dean, 34, has been arrested and charged with murder after he shot and killed a 28-year-old Atatiana Jefferson inside her own home.  Aaron Dean was booked into the Tarrant County Corrections Center and later released on a $200,000 bond, according to jail officials.  The arrest came just hours after Dean's resignation from the police force. Dean, who joined the department in April 2018, still faces possible civil rights violations, Kraus said.
Interim police Chief Ed Kraus said during a press conference earlier that he intended to end Officer Aaron Dean's employment, but that Dean tendered his resignation first.  Had the officer not resigned, I would have fired him for violations for several policies, including our use of force policy, our de-escalation policy and unprofessional conduct.  Dean was initially placed on administrative leave after he shot Jefferson to death but he has not been cooperating with investigators in the case, Kraus said.
Officer Dean was responding to a non-emergency call from a neighbor for a wellness check after the neighbor saw Jefferson's front door was open.  Jefferson was playing video games with her 8 year old nephew early Saturday morning just minutes before she was killed.  Body camera shows that when police arrived, Dean shined a flashlight through Jefferson's window and yelled, "Put your hands up — show me your hands," before firing a single shot at Jefferson seconds later.  He never identified himself as a police officer.
Police Chief Kraus said he doesn't know what, exactly, led Dean to open fire.  "I cannot make sense of why she had to lose her life." The chief said Dean resigned without talking to internal affairs investigators.  The video included images of a gun inside a bedroom. Kraus said he did not know whether Jefferson was holding the weapon. But he said the mere fact she had a gun shouldn't be considered unusual in Texas.  "We're homeowners in Texas," the police chief said. "Most of us, if we thought we had somebody outside our house that shouldn't be and we had access to a firearm, we would be acting very similarly to how she was acting." Kraus said that, in hindsight, releasing the images of the weapon was "a bad thing to do."
Jefferson was staying at her mother's house in Fort Worth to help her recover from an injury when the shooting happened at about 2:25 a.m.   A lawyer for Jefferson's family, Lee Merritt, said her relatives were "relieved" over the arrest.  Merritt said that on the night of the shooting she had been playing video games with her 8-year-old nephew and lost track of time. Earlier that night, he said, the family had opened the front door to allow crisp fall air inside to cool down the house.  "We need to see this through to a vigorous prosecution & appropriate sentencing," he tweeted. "The City of Fort Worth has much work to do to reform a brutal culture of policing."
In a separate news conference earlier Monday, Jefferson's family demanded an outside investigation into her death.  "This man murdered someone," Darius Carr, Jefferson's brother, told reporters.  Jefferson was "simply going on along with her life, living a law-abiding citizen's peaceful life, and she was killed by a reckless act of a Fort Worth police officer," an older sister, Ashley Carr, said. "There is simply no justification for his actions."  Police Chief Kraus brought the case to the Texas Rangers, who he said were not inclined to take it up at that point, and to the FBI, which did not immediately say whether it would review it.