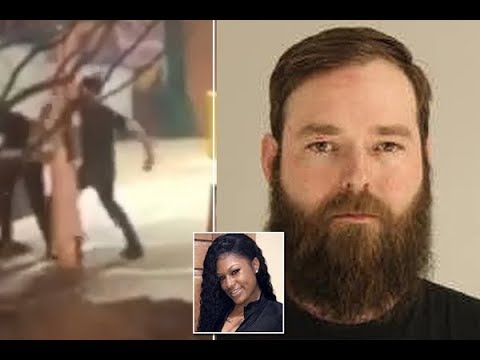 Texas police have dropped a felony arrest warrant against 24 year old L'Daijohnique Lee, who was threatened with a gun and brutally beaten by 30-year-old Austin Shuffield in a Dallas parking lot on March 21.   Shuffield's own charges were upgraded after video of the assault went viral.  The attack occurred after what should have been a minor traffic dispute but quickly escalated to violence.
The assault began when Lee's car was reportedly blocking the exit the parking lot exit behind a barbershop and bar where Shuffield worked serving drinks.  The victim told police that she was driving the wrong way down a street when Shuffield stopped her, got out of his truck and told her to move out of the way because she was blocking the exit to the parking lot.  She said after she moved her car into the parking lot, Shuffield followed her and they got into an argument.  When she tried calling 911, Shuffield slapped her phone out of her hand.
Bystander video shows Shuffield confronting her with a gun in his hand.  When the victim pulled out her phone to call 911, Sheffield slapped it out of her hand.  After he slapped her phone out of her hand she hit him.   Shuffield is then seen savagely punching Lee at least five times while shouting racial slurs before attempting to kick or stomp on her phone that was still on the ground.
Initially Lee was charged with felony criminal mischief for allegedly smashing the windows of Shuffield's truck after she was assaulted by him but those charges were later dropped.  The assault left Lee with a concussion and cranial swelling.  Shuffield was arrested minutes after the attack and charged with one count of assault and interference with an emergency call.  He was released the next day on the two misdemeanor charges
His charges were upgraded last week after video of the assault circulated on several social media outlets, sparking protests.  His upgraded charges include unlawfully carrying a weapon, aggravated assault with a deadly weapon, bodily injury, interfering with an emergency call and public-intoxication misdemeanor charges.  He has since been released from jail.  Shuffield was fired from his job as a bartender at Deep Ellum's High and Tight Barbershop and his former employer said it was shocking to see such violent behavior from someone who was otherwise a very good employee.
L'Daijohnique Lee's attorney Lee Merritt said that his client was "pleased" to learn that Shuffield will face more serious charges. "Ms. Lee will fully cooperate with DA John Creuzot who has indicated he would like to interview her directly in order to ensure a thorough presentation to the Grand Jury," Merrit said in a statement. "We believe that additional details from the DA investigation will warrant hate crime enhancements as well."
Merritt criticized the Dallas police officer who arrested Shuffield for not filing the felony charges in the first place, and credited the backlash on social media and protests in Deep Ellum with spurring the police department to take action. "Despite reviewing video evidence, independent witness statements, securing a firearm and receiving the victim statement," Merritt wrote. "However, we are grateful that after significant community backlash and protest more serious charges were perused. The delay however has allowed a dangerous assailant to continue to roam freely among the public and had caused Ms. Lee a great deal of unrest."