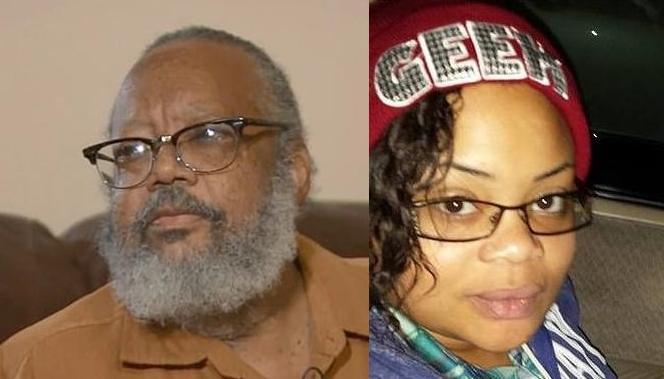 The father of Atatiana Jefferson has died, less than one month after a police officer killed his 28-year-old daughter by shooting through the bedroom window of her own home.  Atatiana's father, Marquis Jefferson, 59,  died after suffering a heart attack. The family spokesman said, "I can only sum it up as a broken heart." Atatiana was his only child and she was killed exactly one month ago, on October 12, by police officer Aaron Dean.  The spokesman, Bruce Carter, said Jefferson had been under a lot of stress since his daughter was killed and was also battling Chronic Obstructive Pulmonary Disease, which makes breathing difficult.
Jefferson had been embroiled in a family dispute involving his daughter's funeral and burial arrangements, which were controlled by her aunt, Bonita Body. He argued that as the surviving parent of Atatiana, he should have control of her burial, and was granted a temporary restraining order to postpone the funeral. The service eventually took place on October 24.  "He was battling to be a part of her life to the end," Bruce Carter, the family's spokesperson, said. "I think it just got the best of him."
Lee Merritt, attorney for Atatiana Jefferson's family, said in a statement they were saddened to learn the news about Marquis Jefferson and "of course" the loss his daughter factored into his death.  "Her death rocked the nation but no one felt it more than the people that were directly tied to her in life," Merritt said. "Those people haven't had a chance to grieve like normal families. They have been thrust into a very public, very emotional, very draining fight for justice."
On October 12, at around 2:30 a.m., Dean had arrived at Atatiana's Forth Worth residence with another officer in response to a non-emergency "wellness check" called in by a neighbor who noticed Atatiana had left her front door open.  Atatiana was playing video games with her 8-year-old nephew when she heard noises outside of her home.  According to her nephew, she took her handgun from her purse and pointed it "toward the window" just before getting shot by Dean.  The two men did not identify themselves as police when they approached the window where Atatiana stood.
Body camera footage showed Dean looked inside a window using a flashlight, spotted someone inside standing near a window and said, "Put your hands up — show me your hands." He shot seconds later.  At no point did he identify himself as an officer and he did not appear to have knocked on the door.  Dean resigned from the police department shortly afterward, and was arrested and charged for Atatiana's murder. He is currently out on a $200,000 bond.
Dean completed police training at the Fort Worth Police Academy in March 2018 and at the time of the shooting, had been with the department for 18 months. Prior to the shooting, the only entry in his Fort Worth police personnel file was about a traffic collision.  Dean's training records from his first year on the job note concerns from supervisors which included that he had "tunnel vision" and "needs improvement on communicating with the public and fellow officers." Dean's most recent performance evaluation was made in spring 2019, where he received high marks from a supervisor.