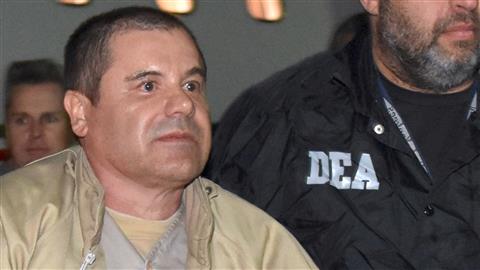 A New York City federal jury rendered a guilty verdict on all 10 federal criminal counts against notorious Mexican drug lord Joaquín "El Chapo" Guzmán, after a 3-month trial. The counts include conspiracy to launder drug money, international distribution of drugs, the use of firearms and engaging in a criminal enterprise.  The 61 year old faces a mandatory life sentence without the possibility of parole for the guilty verdict of leading a continuing criminal enterprise, and a sentence of up to life imprisonment on the remaining drug counts.  He will be sentenced on June 25.
Joaquin "El Chapo" Guzmán Loera once headed a criminal enterprise that spanned continents and triggered waves of bloodshed throughout his native Mexico, claiming more than 100,000 lives in drug-related violence.  During the more than 200 hours of testimony at the Federal District Court in Brooklyn, 56 witnesses took to the stand with stories of murder, violence, spying, widespread corruption and even one tale of the drug lord escaping arrest in 2014 by climbing naked through a sewer alongside a former lover.   The kingpin is just as notorious for leading the violent cartel as he is for his extensive measures of escaping arrest and daring prison escapes.  Since Guzmán's capture in 2016 and extradition one year later, he has been kept in solitary confinement in a maximum security prison with little to no human interaction for as many as 23 hours a day.
Over 2½ months, the partially sequestered and anonymous jury sat through testimony from 56 witnesses about unspeakable torture and ghastly murders, corruption at nearly every level of Mexico's government, narco-mistresses, gold-plated AK-47s and monogrammed, diamond-encrusted pistols.  Fourteen of those witnesses — mostly admitted drug traffickers and cartel associates — cooperated with prosecutors in hopes of reducing their own prison sentences.  There were also surveillance photos, intercepted phone calls and text messages involving Guzmán, as well as evidence showing extravagant firepower and bricks of cocaine that dropped with the force of potato sacks.
The jury deliberated roughly 34 hours over six days before rendering guilty verdicts on all 10 counts.   Jurors did not look at the defendant, who reportedly pocketed nearly $14 billion in cash proceeds as the decades-long head of the Sinaloa cartel.  Under El Chapo, the Sinaloa cartel smuggled narcotics to wholesale distributors in Arizona, Atlanta, Chicago, Los Angeles, Miami, New York.  Federal prosecutors said they will seek a forfeiture judgment for billions of dollars constituting the cartel's illegal drug-trafficking proceeds.
One of Guzmán's lawyers described him as "extremely upbeat" after the verdict, "He's a fighter, he's not done yet by far" defense attorney Michael Lambert said.  After jurors left the room, Guzmán waved and smiled at his wife, Emma Coronel, a former beauty queen and courtroom regular who smiled back and touched her hand to her heart.  Another member of the defense team, Jeffrey Lichtman, said they waged a vigorous defense and are disappointed in the jury's verdict but they plan to file an appeal on a number of issues.
According to experts, his conviction will not diminish the power and reach of the Sinaloa cartel.  According to researchers, the violent crime group has not been affected despite the arrests of some of the cartel's top leaders and important associates.    El Chapo created an extraodinary criminal organization that operates in more than 40 countries and was designed to carry on even in his absence.  Once El Chapo started running from authorities, Ismael "El Mayo" Zambada Garcia, who lead a faction of the cartel, made sure the cartel still functioned, which he still does to this day.