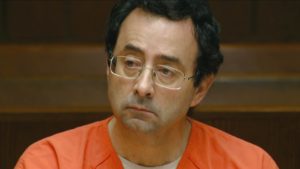 Dr. Larry Nassar, the acclaimed osteopathic physician accused of molesting over 100 young athletes and children while working for USA Gymnastics and Michigan State University pled guilty to multiple charges of sexual assault.  Nassar, the 53-year-old father of three appeared in an Ingham County courtroom on seven counts of first-degree criminal sexual conduct involving girls who were 15 years old or younger.  He remains in custody while awaiting sentencing on those charges.
The charges relate to Nassar's time as a faculty member at Michigan State University, from 1997 to 2016, when, the university said, he was fired after the allegations surfaced.  Three of those charges applied to victims under 13, and three applied to victims 13 to 15 years old.   Nassar had been charged with 22 counts of first-degree criminal sexual conduct and 11 counts of third-degree criminal sexual conduct at the state level but the other charges were dismissed or reduced as part of a plea agreement.   Nassar also agreed to a minimum sentence of 25-40 years in prison.
As part of the plea agreement, the Michigan Attorney General's office will no longer prosecute cases reported to MSUPD, which is a total of 115 cases.  In exchange for Nassar's admissions of guilt, U.S. attorneys in Michigan will not pursue charges related to "interstate/international travel with intent and engaging in illicit sexual conduct in foreign places," between 2006 and 2012 involving two other children.  Prosecutors also agreed to not pursue allegations that Nassar assaulted two children in his family's swimming pool in the summer of 2015.
Separately, Nassar is also awaiting sentencing on federal charges of receiving child pornography, possessing child pornography and a charge that he hid and destroyed evidence in the case.  In that plea deal, Nassar has agreed to plead guilty to three federal charges related to possession of child pornography with each charge carrying a potential sentence of up to 20 years.   In exchange, U.S. attorneys will recommend a combined prison sentence of about 22 to 27 years for all crimes.   All 125 victims who reported assaults to Michigan State Police will be allowed to give victim impact statements at Nassar's sentencing, according to the plea deal.
Seven former Team USA gymnasts and dozens of other women have accused Nassar of sexual assault.  Nassar served as a volunteer physician for USA Gymnastics, the organization that trains and selects Team USA gymnasts, for nearly 30 years, and treated gymnasts at four Summer Olympics.   Nassar also worked full-time in the school of osteopathic medicine at Michigan State, where he treated the Spartans' gymnasts and other college athletes.  The majority of the more than 100 women who have sued Nassar and Michigan State have alleged assault in connection with his employment at the university.
Officials at USA Gymnastics have received heavy criticism over their handling of the situation.  Once they were aware of allegations, they investigated on their own for five weeks before reporting him to the FBI.USA Gymnastics ended its relationship with Nassar in July 2015, but did not publicize the separation.  In that time, Nassar continued to work at Michigan State, and treat athletes and children at a university clinic, until last August, when a woman filed a criminal complaint with the university police.