7 months ago
·
by
HealthInsurance4Everyone
·
Comments Off

on Death Toll In Laos Dam Collapse Could Be Far Higher Than Initial Reports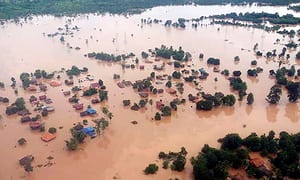 Aid groups say the toll from the collapse of a billion-dollar hydroelectric dam in Lao's is far higher than the official figure of 27 dead and 131 missing. Despite a government ban on foreign media covering the disaster, the BBC reports the death toll could be closer to 300. Another 3,000 people are still stranded in homes surrounded by floodwaters and over 6,000 people have been displaced.  The dam collapse occurred around 8 p.m. on July 23rd and caused immediate flash flooding through the villages of Yai Thae, Hinlad, Ban Mai, Thasengchan, Tha Hin, and Samong, all in Sanamxay district.  Homes, roads and bridges were swept away.
The disaster has revived the debate about plans by the Laos government to boost the economy by building dozens of dams to export hydroelectricity to neighboring countries.  The South Korean company that is the main builder of the hydroelectric project has admitted that it knew the dam was deteriorating a day before it failed but the reason for the collapse remains unclear.  There are conflicting reports on when damages to the dam were first noticed, raising more questions on whether the order to evacuate villagers from their homes should have been issued earlier.  The portion of the dam that collapsed was reported to be a saddle dam—its official name was "Saddle 'D', an auxiliary structure used to hold water beyond what is held by the main dam".
Emergency teams in southern Laos are continuing to search for survivors following the collapse of a dam, which released five billion cubic meters of water.  As floodwaters in began to recede, official sources said eight bodies had been recovered, while an official has suggested more than 1,100 people may still be unaccounted for.  Homes were swept away and farmland submerged when an auxiliary dam at the Xe Pian Xe Namnoy hydroelectric project collapsed.
An overwhelming amount of mud left behind is hampering search operations.  Some areas are inaccessible by boat, with helicopter flights being the only way to reach some communities.  Rescue efforts are further complicated by the fact that the area is densely forested with no mobile-phone coverage.  Roads that previously existed were washed away in the floods and thousands of people who fled their homes are packed into makeshift shelters.
Officials in northern Cambodia have ordered the evacuation of 25,000 people downriver of the collapsed dam, due to heavy flooding and rising water levels.  The Prime Minister of Laos, Thongloun Sisoulith, suspended his immediate meetings and travelled in person to the site.  Sisoulith also called in both the police and the army, declaring the area a disaster zone.  The local government requested emergency aid from neighboring communities.  The neighboring countries of China, Malaysia, Philippines, Singapore, Thailand and Vietnam have offered to provide any assistance needed by Laos.