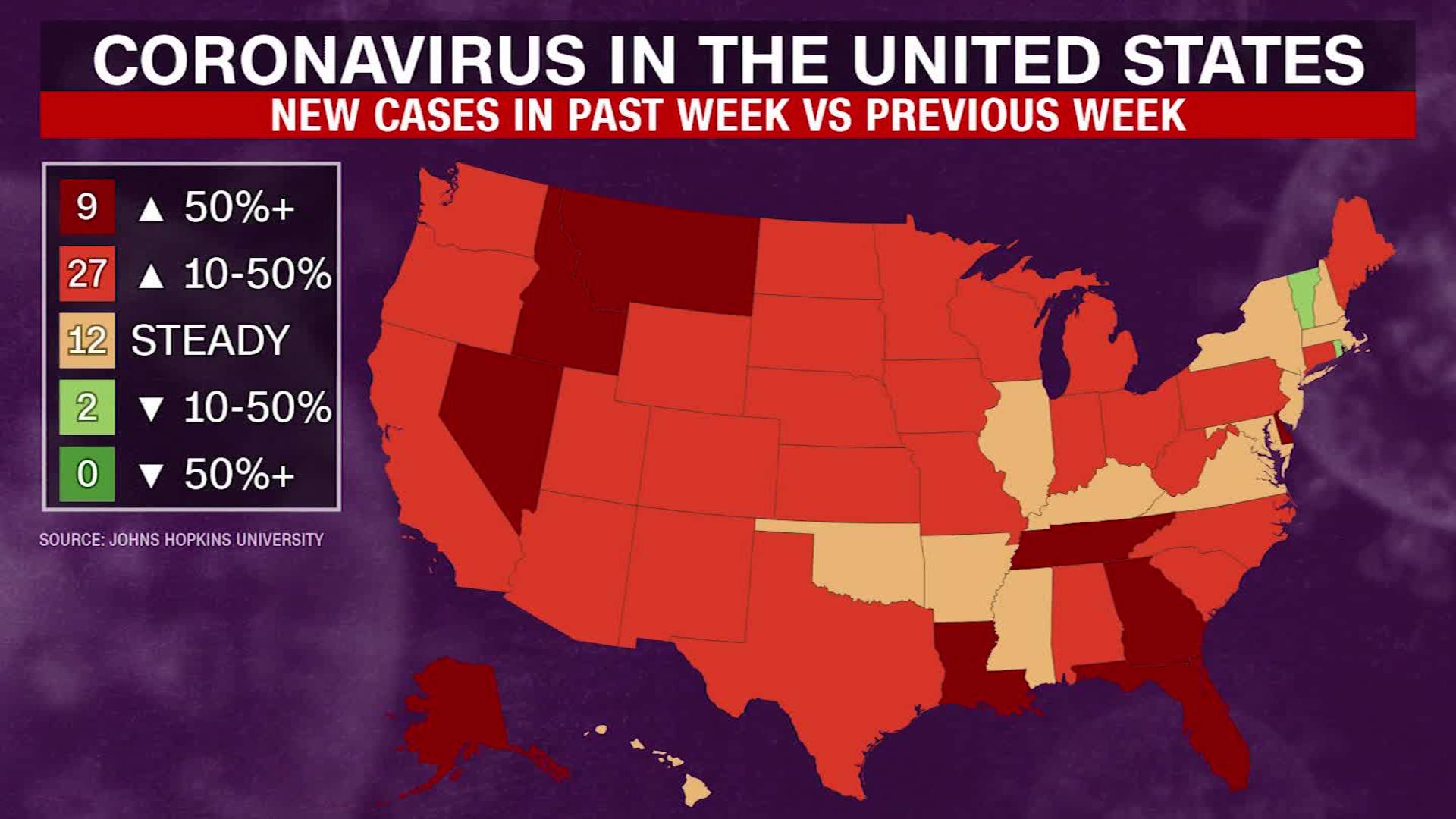 The World Health Organization is warning "the worst is yet to come" as countries across the globe are experiencing new spikes, with some putting the brakes on reopening.   The pandemic is the worst in the Americas, where the number of COVID-19 deaths are projected to nearly triple to 627,000 by October 1.  Coronavirus cases have now surpassed 11 million worldwide, with over a half-million deaths. Cases continue to surge across much of the United States, where confirmed cases have now topped 2.8 million, with over 128,000 reported deaths — that's one-quarter of the world's cases and deaths, though the U.S. has just over 4% of the global population.
Spikes are being reported in 36 states. Only two states — Connecticut and Rhode Island — saw a decline in new cases compared to the previous week.  The United States has set another grim coronavirus record, confirming nearly 52,000 cases of COVID-19 in just 24 hours.  Alaska, Arizona, California, Georgia, Idaho, Oklahoma, South Carolina, Tennessee and Texas all reported single-day record levels of the disease with hospitals in some regions already overwhelmed with patients.
At least a dozen states have "paused" their reopening. In California, Governor Gavin Newsom ordered bars in seven counties, including Los Angeles, to close. The governors of Florida and Texas have ordered bars to close, among other restrictions, in an attempt to curb the surge in cases.  A major hospital system in Houston reportedly stopped disclosing COVID-19 data after its ICU capacity hit 100%, and following conversations with Governor Greg Abbott in which he expressed concern over negative headlines.  Both governors are refusing to impose statewide stay-at-home orders and mandate the wearing of face masks.
More states around the country are imposing new measures and rolling back their reopening as coronavirus cases continue to surge. The governors of Oregon and Kansas are mandating face masks for residents. Jacksonville, Florida, also said it will make face coverings mandatory.  Seven cities in Texas say they will impose orders mandating face masks.  Meanwhile, hospitals in Texas report a dire situation as cases surge.
Meanwhile, beaches in Los Angeles, as well as several Florida counties, were closed for Fourth of July weekend.  Despite skyrocketing cases, crowds still packed many of the open beaches in coastal cities for the Fourth of July holiday weekend, sparking further fears of new spikes.
Officials in Texas, Florida and Arizona say the states' early reopenings helped fuel the explosion in cases. In California, Governor Gavin Newsom reimposed coronavirus restrictions, shutting down bars and indoor dining in 19 counties that are home to more than 70% of California's population.  In Arizona, Governor Doug Ducey ordered bars, gyms, movie theaters and water parks closed for at least 30 days amid an exponential rise in new infections.  New York City has also halted plans to reopen indoor dining at restaurants. New York, New Jersey and Connecticut have ordered travelers from 16 states with high infection rates to self-quarantine upon their arrival.