10 months ago
·
by
HealthInsurance4Everyone
·
Comments Off

on Clemency Granted for Troops Involved in 3 Controversial War Crimes Cases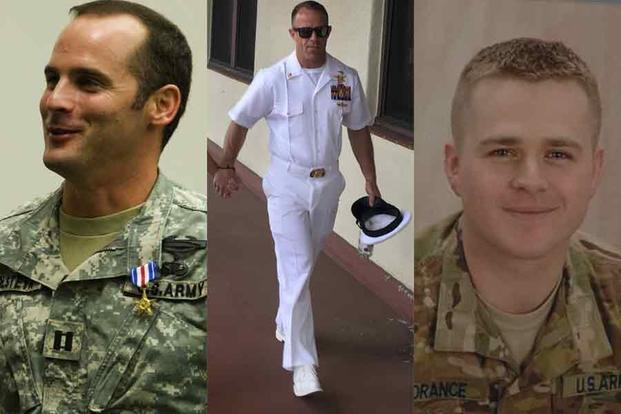 The administration has granted clemency to three controversial military figures embroiled in charges of war crimes, arguing the moves will give troops "the confidence to fight" without worrying about potential legal overreach.  Army 1st Lt. Clint Lorance, convicted of 2nd degree murder in the death of two Afghans, was given a full pardon.  Army Maj. Mathew Golsteyn, who faced murder charges for a similar crime, was also given a full pardon for those alleged offenses.  Special Warfare Operator Chief Edward Gallagher, who earlier this year was acquitted of a string of alleged war crimes, had his rank restored to Chief Petty Officer.
Critics have warned the pardons could send the message that troops need not worry about following rules of engagement when fighting enemies abroad.  Lorance's case dates back to a 2012 deployment to Afghanistan, when he ordered his soldiers to fire on three unarmed men riding a motorcycle near their patrol.  Members of his platoon testified against him at a court-martial trial, describing him as over-zealous and the Afghans as posing no real threat.  He was sentenced to 19 years in prison at Fort Leavenworth, Kansas.
Golsteyn's case had not yet been decided, with a scheduled trial date in December on charges he murdered an alleged Taliban bomb maker, and burned his remains in a trash pit during a 2010 deployment with 3rd Special Forces Group.  Golsteyn, an Army Green Beret major, had pled not guilty to murder and related charges.  His pardon effectively puts an end to that legal case before any verdicts were rendered.
While Gallagher was acquitted of murder and obstruction of justice charges in July, a panel of his peers recommended he be reduced in grade for posing with the body of the teenaged detainee, a crime he never denied.  His rank was restored with the pardon but the Navy plans to remove Chief Gallagher from the elite SEAL team despite the pardon.  It's been reported that several top military officials threatened to resign if Navy officials did not move forward with these plans despite the pardon.
Chief Gallagher was accused of multiple offenses during his final deployment to Iraq and during the Battle for Mosul. The most prominent and disturbing accusation was the murder of a prisoner of war, a war crime.  A captured young ISIS fighter was being treated by a medic.  According to two SEAL witnesses, Gallagher said over the radio "he's mine" and walked up to the medic and prisoner.  Without saying a word to the medic or prisoner, Gallagher killed the prisoner by stabbing him repeatedly with his hunting knife.  Gallagher and his commanding officer, Lieutenant Jake Portier, then posed for photographs of them standing over the body with some other nearby SEALs.  Gallagher then text messaged a fellow SEAL a picture of the dead captive with the explanation "Good story behind this, got him with my hunting knife."
Gallagher was also accused of being indiscriminate, reckless and bloodthirsty during his 2017 deployment.  Fellow snipers did not consider him to be a good sniper because he would allegedly take random shots into buildings and indiscriminately spray neighborhoods with rockets and machine gun fire with no known enemy force in the region.  Several snipers testified that they witnessed Gallagher taking at least two militarily pointless shots, shooting and killing an unarmed old man in a white robe as well as a young girl walking with other girls.  Gallagher was allegedly known for boasting about the large number of people he had killed, claiming he averaged three kills a day over 80 days, including four women.