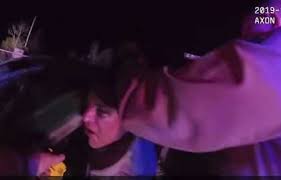 Newly released body-camera video shows a Sonoma County sheriff deputy fatally slamming a man's head into his own car. The sheriff deputy, Charlie Blount, and his partner, Deputy Jason Little, apparently thought the driver, David Glen Ward, had stolen the car — which he in fact owned.  Ward had been the victim of a carjacking days earlier and reported the car stolen.  
He had somehow recovered the vehicle but hadn't notified police yet.  When the officers spotted the Honda Civic they attempted to pull the vehicle over thinking he was the perpetrator, which resulted in a police chase that lasted more than 5 minutes.  Once Ward finally stopped, deputies can be heard shouting at Ward to put his hands up, with their guns drawn. Ward puts his hands up but repeatedly tries to put them back on the wheel before putting them up again.  
In the video, Blount tries to pull Ward out of the vehicle but Ward says that his legs are in pain and Deputy Jason Little can be heard off-camera saying that his legs are stuck.  Blount and Little both can be heard saying that Ward bit them. As the officers try to pull Ward from the vehicle, Deputy Blount grabs him by the hair and slams his head into the car's frame.  Deputy Little deploys the taser on Ward and Blount puts Ward in a "sleeper hold" to restrain him. The deputies then pull Ward's limp body out of the car and handcuff him. They then call for medical assistance.  Ward was declared dead at a local hospital later that day.  
Later, Deputy Nick Jax can be heard telling the two officers that Ward was the owner of the vehicle.  "Then why did he run?" Little asks. Jax responded that he didn't know and there was no reason for him to respond that way.  "Oh well," Blount said.  
Deputy Blount's lawyer Harry Stern said " Mr. Ward caused his own death by inexplicably taking a number of bizarre actions that confirmed in the deputies' minds that he was an armed carjacker rather than the victim of that crime."