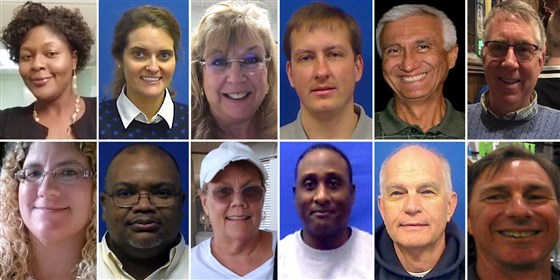 Twelve people died and six were injured in a mass shooting in Virginia Beach when a gunman opened fire on a municipal building.  Four of the injured were listed in critical condition at an area hospital and one of the injured was a police officer who exchanged fire with the shooter.  The gunman, 40-year-old DeWayne Craddock, who also died from gunshot wounds, had worked at the site of the massacre for 15 years as an engineer.
At around 4pm on Friday, he fatally shot one person in the parking lot of the Virginia Beach Municipal Center before entering the building and shooting people on all three floors.  Police say just days prior to the shooting, Craddock was alleged to have been involved in physical scuffles with fellow city employees and threatened with disciplinary action.  Craddock had emailed his resignation hours before the shooting and still had his ID badge which allowed him access to employee permitted areas of the building.  Authorities say he used two legally bought .45 caliber pistols and they found two more firearms at his home.
Virginia Beach police Chief James A. Cervera said the victims were found on three different office floors, and "It's a horrific crime scene," he said.  Police believe employees may not have known there was an active shooter situation until he was already on their floor because the building was undergoing renovations at the time the sound of gunshots were mistaken for someone using a nail gun.  Eleven of the victims fatally shot were city employees and one was a contractor who was in the building to obtain a permit.  Four officers entered the building and located the gunman inside and "immediately engaged" him, police chief James Cervera said. The attacker was then shot dead.  One officer was injured but his vest saved his life.
The area was put on lockdown and the building evacuated.  Survivors described cramming into an office and barricading the doors while others hid under desks.  Two survivors said they made eye contact with Craddock several times but he did not raise his weapon toward them, instead shooting others.  Survivor Megan Banton, an administrative assistant in the building, told a local news station "We just heard people yelling and screaming at people to get down."
The city's visibly shaken mayor, Bobby Dyer, called it "the most devastating day in the history of Virginia Beach."  The employees killed had a combined 150 years of service to the city, with one of them having served the city for 41 years. Six of the employees worked in the city's public utilities department, which is the same department in which the suspect worked.  The victims were identified as Laquiya C. Brown, 39 Ryan Keith Cox, 50. Tara Welch Gallagher, 39. Mary Louise Gayle, 65. Alexander Mikhail Gusev, 35. Joshua O. Hardy, 52. Michelle "Missy" Langer, 60. Richard H. Nettleton, 65. Katherine A. Nixon, 42. Christopher Kelly Rapp, 54. Herbert "Bert" Snelling, 57 and Robert "Bobby" Williams, 72.