1 month ago
·
by
HealthInsurance4Everyone
·
Comments Off

on Three Officers Fired, One Resigns After Selfie Photos In Front of Elijah McClain Memorial Surface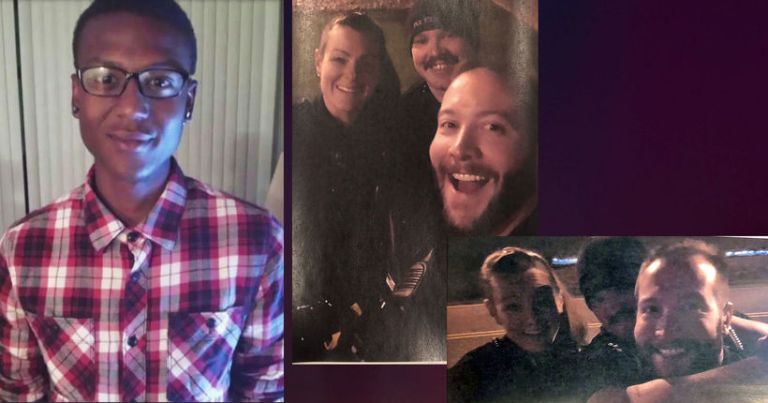 Protests against racism and police violence continued over the weekend.  In Aurora, Colorado, police used pepper spray on crowds as thousands took to the streets, shutting down an interstate, in a call for justice for Elijah McClain.  McClain, 23, was killed by police after he was tackled by police as he headed home from a local convenience store, placed in a chokehold and then injected with the sedative ketamine by paramedics.   Three officers with the Aurora Police Department were fired, and a fourth resigned, after they took selfie photos reenacting the killing of Elijah McClain in front of a memorial for him two months after his death.  Aurora's interim police chief, Vanessa Wilson, called the photo a "crime against humanity and decency."
Colorado Governor Jared Polis announced a special prosecutor would reopen a probe into the police killing of Elijah McClain.  Those officers are Erica Marrero and Kyle Dittrich. The officer in the middle of the photos, Jaron Jones, resigned.  Officer Jason Rosenblatt, one of the officers involved in McClain's arrest, was terminated after responding via text to the photos with "haha." It's not clear if Rosenblatt will appeal his termination.
Federal law enforcement agencies revealed that, since last year, they've been investigating the death of Elijah McClain at the hands of Aurora police and paramedics.  The U.S. Attorney's Office for the District of Colorado, the Department of Justice's Civil Rights Division and the Denver Division of the FBI said in a news release that the recent international attention around the death of McClain caused them to disclose their ongoing investigation.  McClain was walking home from a store when a passerby called 911 and reported McClain was acting odd.
Three officers responded to the call and located McClain walking northbound near Interstate 225.  McClain was wearing a mask but was not armed, and had not committed a crime.  McClain didn't stop when officers told him to, later telling them he had his music playing on his headphones and couldn't hear them. One officer grabs McClain, who asked the officer to respect his boundaries, placed him in a chokehold and tackled him to the ground.  He was also given ketamine, a sedative, by an Aurora Fire Department paramedic.
The officers claim McClain resisted arrest and that he attempted to take one of their guns. Body camera footage does not show McClain reaching for their guns.  McClain "briefly went unconscious," according to a report the local district attorney, Dave Young, completed last fall.  McClain could also be heard in the police video telling the officers, "I can't breathe, please," and he vomited while he was on the ground.  When paramedics arrived, McClain was injected with ketamine, placed into soft cuffs and loaded into an ambulance.  About seven minutes after he received the ketamine, McClain had no pulse in the ambulance and went into cardiac arrest, the report said. Medics were able to revive him, but he was later declared brain dead, and he was taken off life support less than a week later.
Mari Newman, an attorney for McClain's family, said that the ketamine was unnecessary and that she wants a thorough investigation.  "The Aurora medics had no right to inject Elijah with ketamine at all," she said. "He was handcuffed, crushed against the ground by officers much larger then he was, and he was not fighting. He was begging for his life, vomiting and trying to breathe. And they certainly had no right to involuntary inject him with a dose intended for someone over twice his size."