2 months ago
·
by
HealthInsurance4Everyone
·
Comments Off

on Three Officers Charged In George Floyd's Death As Protests Continue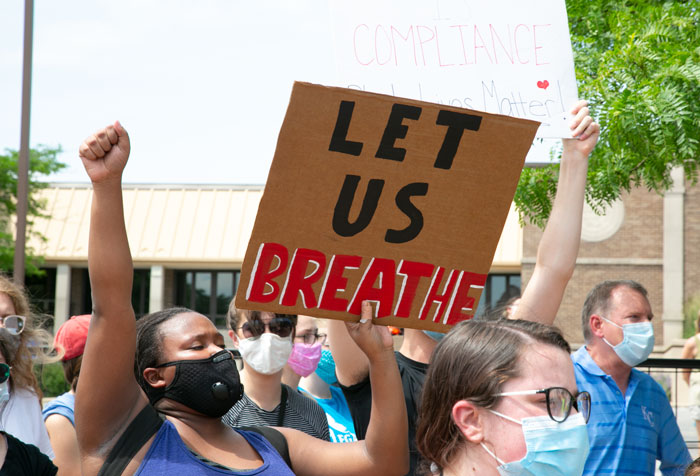 Protests against police violence continue across the country as many cities have imposed curfews. Thirty-one states and the District of Columbia have activated their National Guards, with nearly 80 localities implementing curfews in response to the nationwide protests following the death of George Floyd.  Protests largely remain peaceful during the day but by night, protests turn to riots.  At least 9,300 people have been arrested across the US during protests.
Protesters across the US and globe keep gathering to march, some shouting slogans including "I can't breathe," which Floyd told the Minneapolis police officer who had a knee on his neck in a bystander's video of the incident.  Others have gathered to lie face down for 8 minutes and 46 seconds, the amount of time Chauvin held his knee on Floyd's neck.  In many cities, just before the 8 p.m. curfew begins, police begin shooting tear gas, flashbang grenades and rubber bullets at demonstrators in an attempt to disperse crowds.
In Houston, Texas, 16 members of George Floyd's family joined a crowd of 60,000 protesters who marched to City Hall to remember Floyd, who spent most of his life in Houston before moving to Minnesota in 2014 for a fresh start.  His family urged protestors to continue to fight for police reform and equality by protesting but said rioting is not the way to fix this.  Chauvin and Floyd both worked security at the same night club with together with Chauvin working outside security and Floyd working inside the bar.  Former coworkers of the two said they bumped heads over Chauvin's aggressiveness with patrons of the club.  Floyd's family believe George's death was, in part, personal.
Two separate autopsies confirmed Floyd's death was a homicide.  George Floyd's memorial service was planned for Thursday in Minneapolis, and his funeral was scheduled for next Tuesday in Houston.  Minnesota Attorney General Keith Ellison has filed charges against all four Minneapolis police officers involved in the killing of George Floyd.  A charge of second-degree murder was added against Officer Derek Chauvin, who was already facing a third-degree murder charge.  The other three officers present were charged with aiding and abetting the murder. Thomas Lane, Alexander Kueng and Tou Thao were arrested with bail set at $750,000 each.  Minnesota, Governor Tim Walz said the state's Department of Human Rights has opened a civil rights investigation into the Minneapolis Police Department.
Many wonder how we got here or believe the arrest of all four officers involved should quell the protests but George Floyd is not the only person protestors seek justice for.  Protestors say Floyd was just the last straw in a growing list of black people that have been killed with no charges for the officers involve or charges being filed months after, only after protests start.  News media coverage of the protests has been largely bias and focused on reports of looting have marred the message peaceful protestors want to make.  Social media sites like tik tok or youtube can give the world a more factual account of what goes on during these protests in every city by those that are actually there and countless videos show protestors stopping the looters, chasing them off or handing them over to police.