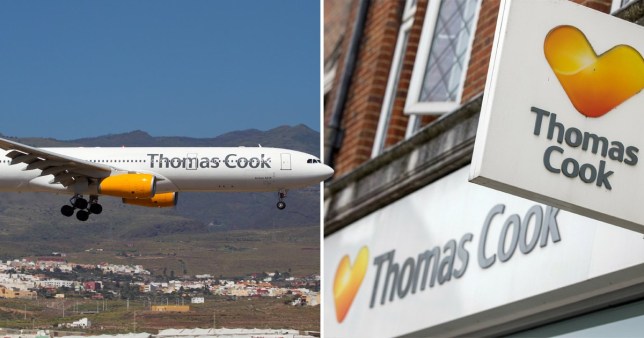 The world's oldest travel company, the British firm Thomas Cook, shut down abruptly, leaving 600,000 customers stranded abroad.  The company has been hit hard by online competition and world events, including a 2018 Europe-wide heat wave that discouraged summer travel, and the 2016 coup attempt in Turkey, a key destination.  It collapsed after failing to strike a rescue deal with lenders as it struggled with $2.1 billion of debt.
The company's stock has ceased trading on the London Stock Exchange, leaving the company insolvent. All bookings, including flights and vacation packages, have been canceled effective immediately.  CEO Peter Fankhauser apologized to customers and employees.  The UK Department for Transport launched its largest ever peacetime repatriation operation to help stranded UK citizens return home. The UK Government and Civil Aviation Authority (CAA) hired dozens of charter planes to fly customers back to the UK free of charge. The government tried to fly people as close to their original travel dates as possible and urged customers not to cut their vacation short or make alternate arrangements until checking the website it established (thomascook.caa.co.uk) for this matter.
Founded in 1841 by businessman Thomas Cook, the company started out in 1841 organizing local rail trips. It later pioneered European package vacations, and ran hotels, resorts, and airlines in 16 countries.  Some 178 years later, it had grown to a huge global travel group, with annual sales of £9bn, 19 million customers a year and 22,000 staff operating in 16 countries.
Along with weather issues, stiff competition from online travel agents and low-cost airlines, there were other disruptive factors, including political unrest around the world that played a role in the company's collapse.  Last summer, shares in Thomas Cook were trading at just below 150p. But after a series of profit warnings, the price had fallen to just a fraction of that. Earlier this year, analysts at Citigroup bank described the travel firm's shares as "worthless".  In May, Thomas Cook reported a $1.5 billion loss for the first half of its financial year, with $1.1 billion of the loss caused by the decision to write down the value of My Travel, the business it merged with in 2007.
The company then put its airline up for sale in an attempt to raise badly-needed funds.  Then they announced it was in advanced talks with its banks and largest shareholder, China's Fosun.   They had hoped to seal a rescue led by Fosun, but the creditor banks issued a last-minute demand that the travel company find an extra $200 million which it was unable to do.  The company's CEO, Peter Fankhauser, said the firm had "worked exhaustively" to salvage the rescue package and it was "deeply distressing" that it could not be saved.
During the company's downward spiral, Fankhauser and other executives received millions in bonuses, salary and other perks to retain their talents.  Fankhauser defended the $8.3 million salary package he received as the company's financial future plummeted.  He said his pay was not "outrageous" compared with other bosses in the FTSE 250 index and also said pay-packages had been set by the firm's remuneration committee and approved by shareholders.