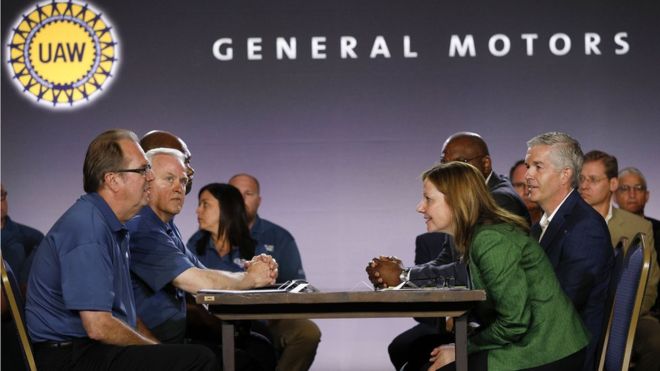 After a 40-day strike, a new four-year deal between the United Auto Workers and General Motors was approved.  The contract was supported by 57% of the labor union. It includes an $11,000 bonus per member, annual raises and more affordable healthcare. General Motors still plans to close three factories in the United States.
The United Auto Workers union emerged with substantial wage increases of 3 percent in the second and fourth years and 4 percent lump sum payments in the first and third years, similar to what the union obtained in 2015.  Even larger gains are in store for those in a category called "in progression," the lower scale of a two-tier wage system negotiated in 2007 when the Detroit automakers were financially reeling.
Workers hired after that date, about a third of the overall work force, started at about half the pay of veteran employees and had no prospect of reaching the top wage, currently $31 an hour. Over the course of the new contract, the disparity will be phased out, and those with four years' experience will rise along with more senior workers to the new top level of $32 an hour.  In addition to pay increases, G.M. workers will get bonuses of $11,000 for ratifying the contract. They will continue to pay 3 percent of their cost of health care, well below the percentage that G.M.'s salaried workers contribute.
There were also rewards for temporary workers, about 7 percent of G.M.'s union work force, who will have a path to permanent employment after three years. About 900 of them will become full employees in January, the union said, and 2,000 more by 2021.
It also won commitments to new G.M. investments in United States factories.  As part of the new contract, the company pledged to invest $7.7 billion in its United States plants, and another $1.3 billion in ventures with partners, providing a measure of job security. G.M. will put $3 billion toward overhauling the Detroit-Hamtramck plant, which had been scheduled to close in January. Three-quarters of the 700 workers there voted in favor of the contract.
At the same time, the agreement allows G.M. to close three idled factories permanently, including one in Lordstown, Ohio, eliminating excess manufacturing capacity at a time when auto sales are slowing. It also puts the company in a more stable position if the economy goes into a recession.  The closing of the Lordstown plant was one of the main sticking points for some workers voting against the contract. "We did everything that G.M. ever asked of us at times of concessions," said Bill Goodchild, a member of Local 1112 in Lordstown. "We feel we deserve a product."
About 48,000 United Auto workers walked off the job over one month ago, making it the longest national strike at GM by United Auto Workers in nearly 50 years.  The contract finally ends a strike that many estimate has cost GM $1.75 billion in losses.  "We delivered a contract that recognizes our employees for the important contributions they make to the overall success of the company," G.M.'s chief executive, Mary T. Barra, said in a statement.