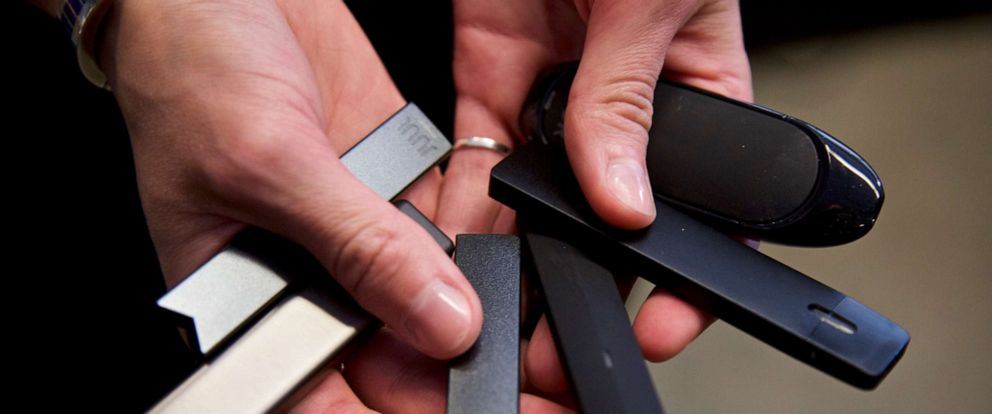 A 50-year-old Kansas woman became the sixth person in the USA to die of a vaping-related lung illness, an outbreak that has ramped up health concerns nationwide.  Kansas State Epidemiologist Farah Ahmed said in a statement that the unidentified patient had a history of underlying health issues and had been hospitalized with symptoms that progressed rapidly.  Dr. Lee Norman, secretary of the Kansas Department of Health and Environment said that the patient did have underlying health issues but nothing that would have foretold the fact that within a week after starting using e-cigarettes for the first time, she developed full-blown acute respiratory distress.  Doctors say it's clear the vaping related lung illness is responsible for her rapid deterioration.
Kansas health officials noted six more cases associated with the outbreak, three patients confirmed with the illness and three cases under investigation.  Five previous vaping-related deaths were confirmed in California, Illinois, Indiana, Minnesota and Oregon. After the Kansas fatality, the Centers for Disease Control and Prevention tallied six deaths and more than 450 possible cases of severe lung injury in 33 states and one jurisdiction.  The CDC confirmed that investigators narrowed their focus and that the additive vitamin E acetate is a chemical involved in many of the cases, but officials emphasized it is not in all of the cases being reviewed.
People with a history of vaping who experience lung injury symptoms should seek medical care, according to Kansas health officials.  Nationally, symptoms include shortness of breath, fever, cough, vomiting and diarrhea.  Other symptoms reported by some patients include headache, dizziness and chest pain.  Though many patients across the nation have been in their late teens, 20s or 30s, the Kansas death is a warning that older adults may be at particular risk.
Patients tend to arrive at the hospital short of breath and coughing. Many have also had fevers, general fatigue and gastrointestinal problems. It is not unusual for patients to be put into intensive care units, and on ventilators. All reported vaping nicotine, THC or a combination of the two in the days and weeks before falling ill.  The CDC has recommended people stay away from vaping devices while investigators work to pinpoint exactly what's behind the illnesses.
The rapid and worrisome increase has now prompted a Congressional hearing on the matter, after a policy discussion on the matter.  The recent death has prompted the U.S. President to call for a ban on thousands of e-cigarette flavors in an effort to get people to give up e-cigarettes.  E-cigarette companies have been given years to gather and submit evidence their products are safe and effective ways to quit smoking traditional tobacco.  A federal judge has set a May 2020 deadline for companies to do so.
Dr. Norman said "God only knows what all is in there.  There should be a moratorium on the sale of these products until we know more."  The American Lung Association also released a statement warning the public that e-cigarettes could cause irreversible lung damage.  "No one should use e-cigarettes or any other tobacco product," Harold Wimmer, national president of the American Lung Association, wrote in the statement. "This message is even more urgent today following the increasing reports of vaping-related illnesses and deaths nationwide."