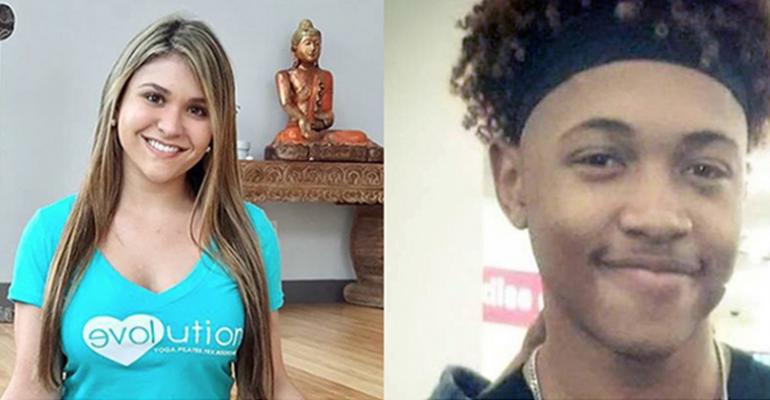 Authorities have identified a second survivor of the February 2018 mass shooting at Marjory Stoneman Douglas High School in Parkland, Florida, who has committed suicide this month.  Sixteen-year-old Calvin Desir took his own life on Saturday, just days after 19-year-old Sydney Aiello had killed herself.  Seventeen students, staff and teachers were killed in Parkland on Valentine's Day last year, in one of the deadliest school shootings in U.S. history.
Sydney Aiello had suffered from PTSD and survivor's guilt after the shooting that that took the life of close friend Meadow Pollack.  It's unclear if Calvin, who was a sophomore at the school, suffered from survivor's guilt as Aiello's family have confirmed.  School district officials, community leaders, law enforcement and concerned parents met on Sunday to discuss how to address the trauma and identify possible warning signs.  A mental health and suicide prevention town hall meeting was scheduled for Wednesday, March 27 at 6 pm, at the Coral Spring City Hall.  A spokesperson for the city hall said "We simply cannot let the events of that day take the lives of any more of our children. As a city, we are committed to shining a light on those who suffer in the darkness. The mental health of our children and all those who have been affected by the MSD tragedy must be made a priority."
The meeting hosted a panel of experts who answered questions from those wanting to help children cope with trauma.  Experts offered advice on how parents can connect with teenagers who isolate themselves, discussed alternative methods of therapy and whether adults can safely talk with children about suicide.  Jackie Rosen, executive director of the Florida Initiative for Suicide Prevention, said parents should feel confident to talk about mental health with their children and begin those conversations "as soon as possible."  Experts also encouraged promoting mental health for teachers.  "To the teachers in the room, the first thing I'm going to ask you to do is to take care of you, take care of yourself and make sure that you are as strong and as nurturing as you can be for yourself," said Patrice Rotolo, clinical director for Smith Community Mental Health.  "Take care of your own needs because that's the best way to meet the needs of your students."
As news of the Parkland suicides circulated, it was confirmed that the father of a 6-year-old girl who was killed in the 2012 mass shooting at Sandy Hook Elementary School was found dead by apparent suicide on Monday. Jeremy Richman, a neuroscientist who, after the death of his daughter Avielle, devoted his life to finding solutions to brain abnormalities that lead to violence. He founded the Avielle Foundation to support brain science research, with the ultimate goal of preventing violence and building compassion.
Six year old Avielle Richman, who was the only child of Richman and his wife, Jennifer Hensel, was among the 26 people killed in the Dec. 2012 shooting at Newtown's Sandy Hook Elementary.   The couple had two more children after Avielle's death.  Hensel wrote in a statement this week, "To parent our children without my champion shatters my heart and I will love my best friend forever. … Side by side since 1991, Jeremy and I walked a path of deep friendship, marriage, and parenthood.  "He succumbed to the grief that he could not escape," she wrote.
Tragically, these recent deaths speak to how critical it is to shatter the stigma of mental health issues and for people suffering or affected by it to seek help for themselves, loved ones and anyone who we suspect may be in need.   If you are in crisis, please call the National Suicide Prevention Lifeline at 1-800-273-TALK (8255) or contact the Crisis Text Line by texting TALK to 741-741.