2 months ago
·
by
HealthInsurance4Everyone
·
Comments Off

on Portland Violence Continues As Judge Extends Order Against Federal Marshals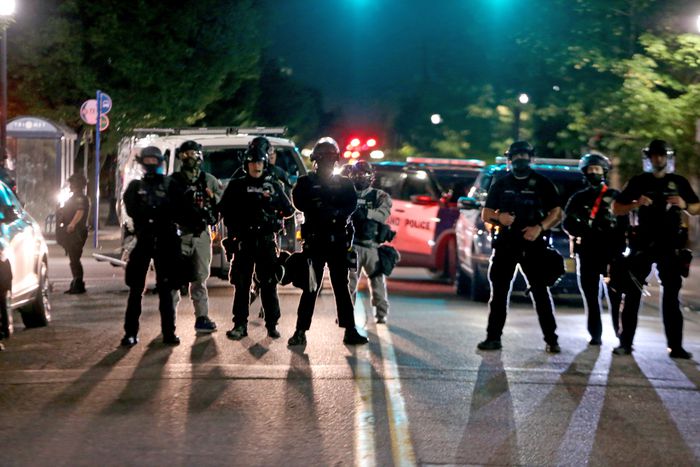 A U.S. district judge in Oregon has extended a restraining order against the U.S. Marshals Service and agents with the Department of Homeland Security, ordering them to stop attacking journalists and legal observers at Black Lives Matter protests in Portland. The ruling came over the objections of the federal government, who argued that the restraining order issued against the U.S. Department of Homeland Security and the U.S. Marshals Service was now irrelevant.
That order barred federal officers from using physical force, arresting, or dispersing anyone they should "reasonably know" was at the protests as a journalist or observer. Attorneys for the federal agencies argued the circumstances had changed with the federal presence in Portland supposed to wind down — and that the order should therefore be allowed to lapse.
Judge Michael Simon sided with attorneys working with the American Civil Liberties Union of Oregon, who argued that the threat of violence remained even as the federal officers became less visible. The ruling comes as part of a lawsuit filed by the ACLU of Oregon, alleging local and federal law enforcement have been targeting and attacking journalists during more than two months of nightly protests against racism and police brutality. Two weeks ago, Simon issued an initial restraining order on the federal officers, following mounting accounts of officers injuring journalists and observers on the ground.
Protests in Portland continue for the 11th straight week as the city's mayor pleaded for protesters to stay off the streets, saying those who barricaded the doors to a police precinct the night before and tried to set it ablaze were not demonstrators, but criminals. The majority of sit-ins and marches have been peaceful with no police interaction. A smaller element continues to violently clash with police after most of the several hundred peaceful demonstrators have cleared the streets.
Within a week of the restraining order being extended, police declared riots as a march turned violent. Police repeatedly blocked marchers as they made their through neighborhoods. The tactics prevented people from gathering outside local police buildings, which have been the recent focus of raucous demonstrations. Portland police pushed people, shot them with impact munitions and set off smoke devices after people threw water bottles and paint toward officers. As protestors left the area to make their way down another street they were repeatedly met by police blocking the march.
Each time protestors marched a different street another standoff with police ensued. Videos have circulated of the confrontations showing objects being thrown at officers from a crowd and others of officers advancing on protestors, knocking people to the ground as they walk down the street. The incident drew immediate criticism, including from Portland Commissioner Jo Ann Hardesty, the council's leading advocate for police reform.