8 months ago
·
by
HealthInsurance4Everyone
·
Comments Off

on Phoenix Officer Fired For Pulling Gun on Family Over Shoplifting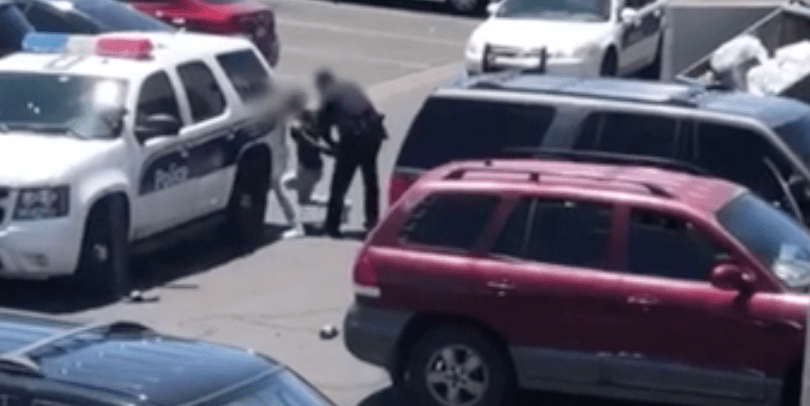 Phoenix Police Chief Jeri Williams has fired Police Officer Christopher Meyer, who threatened to shoot a family after their 4-year-old daughter took a doll from a Family Dollar store. The incident was captured in a viral cell phone video that shows Phoenix pointing a gun at the family's car and threatening to shoot the girl's father, Dravon Ames, in the face. The girl's mother, Iesha Harper, is heard saying she is unable to hold her hands up because she is holding a child and that she is pregnant.
Meyer was one of a group of officers seen on video drawing his gun and cursing at Iesha Harper, who was pregnant and holding a baby, and her fiance, Dravon Ames. Officers were responding to a complaint about shoplifting last May. When questioned, the couple said they were unaware their 4-year-old daughter had taken a doll from a store.   Police had said it went beyond shoplifting, and that the father refused to comply with commands several times.
The video prompted an immediate backlash when it surfaced in June.  At a separate news conference, Ames and Harper said the officer's dismissal should have happened a lot sooner but they were pleased nonetheless.  The couple has filed a $10 million claim against the city.  A second officer who was present will receive a reprimand for using foul language. But video shows he tried to calm the situation, Williams said.  Williams rejected the Disciplinary Review Board's recommendation that Meyer be suspended for six weeks. Instead, she fired him, saying "a 240-hour suspension is just not sufficient to reverse the adverse effects of his actions on our department, and our community."
The decision to fire officer Meyer comes as Phoenix police announced the firing of another officer, Detective Dave Swick, who was involved in a Facebook database that tracked posts of current police officers across the United States that advocated for violence against Latinos, Muslims and women.  Swick was fired do to facebook posts that were flagged as racist.  Williams said her decision to let Swick go was "based on the number and the nature of the social posts."  Williams added that a total of 72 officers were flagged for their social media activity. Nine other officers were suspended following their investigation.  A third officer who is under a criminal investigation for undisclosed reasons was also fired.
As a result, the Phoenix Law Enforcement Association is now pondering filing a vote of no confidence in Williams because they feel her firing of Meyer was too harsh.  Count Phoenix Councilman Sal DiCiccio is among those outraged by Williams decision saying she "gave into mob rule" from those who dislike the police.   PLEA President London said the union has received 200 to 300 calls and emails from officers asking for a vote of no confidence over Williams' decision to fire Meyer and Clinton Swick, who was terminated over his social media posts.
The Phoenix Law Enforcement Association released a statement:  "The Phoenix Law Enforcement Association (PLEA) has a complete understanding of the position Chief Jeri Williams is in as the leader of the Phoenix Police Department and as an appointed employee of the City of Phoenix. However, we do not agree with the decision to terminate the employment of Officer Christopher Meyer and Detective Clinton Swick.  PLEA is dedicated to its members, and we ensure that we carry our members' interests through until the end of all the processes that encompass employment with the City of Phoenix. An appeal hearing is in order, as the Discipline Review Boards for both Officer Christopher Meyer and Detective Clinton Swick recommended suspensions without pay that were on the lower spectrum of the discipline class. Neither Discipline Review Board, which are composed of community members and police employees, recommended terminating either Officer Meyer or Detective Swick."