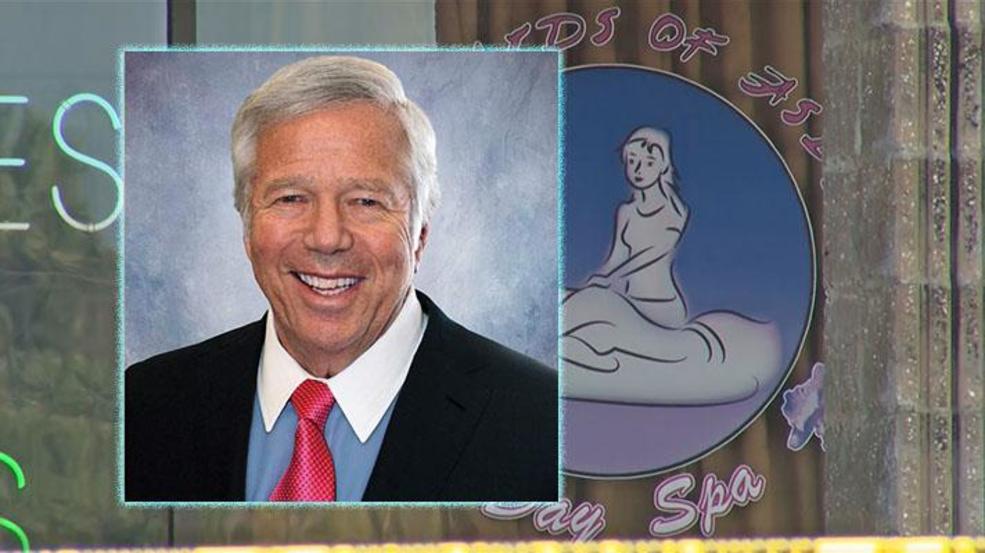 The billionaire owner of the New England Patriots, Robert Kraft, was charged with two counts of soliciting sex during a wide ranging sting operation investigating prostitution and human trafficking at day spas in South Florida.  The charges against Mr. Kraft, 77, in Jupiter, Fla., came after the police used video surveillance to observe activity inside several day spas and massage parlors.  Prosecutors say they have video evidence of Kraft engaging in the criminal acts.  While Mr. Kraft lives in Massachusetts, he has owned property in Palm Beach, Fla., for a number of years.  Kraft is accused of patronizing a spa in Jupiter called Orchids of Asia, a small storefront business in a strip mall on two occasions.
All of the sexual encounters that have resulted in charges were videotaped as part of the prostitution investigation.  Investigators had been conducting surveillance of massage parlors in the area for 6 months and have charged nearly 200 people, though only a fraction have been arrested so far.  The police said that the massage parlors and spas had been used for prostitution and that many of the women involved were considered to be victims.  Many of the women involved in the case came to the U.S. from China on temporary visas, and some reportedly had sex with 1,000 men a year.  The investigation involved several law enforcement agencies and resulted in raids and arrests connected to nearly a dozen businesses in the region.  At least one person was charged with human trafficking while others, including several women, are accused of racketeering and money laundering. More than two dozen customers, men ranging in age from their 30s to at least one in his 80s, have been arrested.
Acting on a tip, the police began their investigation of Orchids of Asia by searching online reviews for the business, several of which used a slang term for a sex act that was available to male customers.  After conducting 24-hour video surveillance in November, the police noticed that only male clients had entered.  A Florida Department of Health investigator inspected the business on behalf of the police and noticed several indications that women were living there, including beds, dressers with personal items and a refrigerator containing food and condiments.
One day in January, the police stopped men leaving the spa and the men told police officers that they had taken part in sex acts during their visits. Using that information, the police obtained a search warrant allowing them to monitor and record conduct inside the spa on video.  At 11:30pm on January 17th, the police entered the Orchids of Asia massage parlor under the pretense of investigating the report of a suspicious package.  They evacuated the parlor and set up surveillance cameras to capture what went on inside.  For five days, starting on Jan. 18, the police monitored the video, and they said they had observed more than 20 men receiving manual or oral stimulation during massage sessions.  Police say they did not observe sexual intercourse in any of the instances.
It is extremely difficult for law enforcement to takedown the rings that operate these types of parlors and even more difficult to prove human trafficking charges because of workers' reluctance to testify, cultural barriers and an international business structure that makes identifying the masterminds next to impossible.  In the last several years, law enforcement has started to view the women in these situations as victims and have cracked down on arresting johns in an effort to eliminate the demand.  In many cases, they refer these women to social services after a parlor is raided.  Many of the women who are working in these establishments are recruited from rural parts of China with promises of legal employment in the US.  Some are fleeing domestic abuse, have little education or their families are heavily in debt.  Agencies in China charge them thousands in travel fees to the US and they agree to work off the debt, eventually being forced into the sex trade with little to no other options for housing or income once in the US.