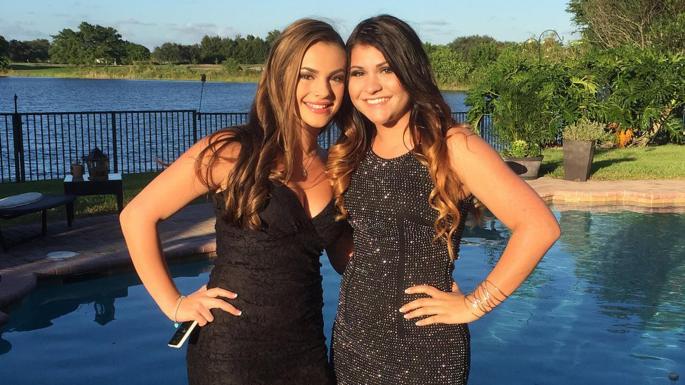 On the day Nicholas Cruz opened fire at Marjory Stoneman Douglas High School he killed 17 classmates and teachers and wounded 17 others.  Many students escaped with their lives but have emotional wounds that they'll carry with them for the rest of their lives.  For Sydney Aiello, 19, the grief of losing her classmates and teachers, including close friend Meadow Pollack, weighed heavily on her. A little over a year after the shooting took place, she took her own life on March 17th.  Heather Galvez of the Broward County Medical Examiner's Office said Aiello died from a gunshot wound to the head.  Aiello's funeral was held Friday and she was buried at Temple Beth El Memorial Gardens in Davie, Fla.  She is survived by her parents, Cara and Joseph, and older brother Nick.
Aiello was a senior and on the high-school campus the day of the mass shooting but was not in the freshman building where the shooting occurred.  Many said she was never the same after the February 14th shooting claimed the lives of her classmates.  After graduating, she enrolled at Florida Atlantic University but her mother, Cara Aiello said she struggled to attend class because she was afraid to be back in a classroom.  She said her daughter was consumed with survivor's guilt and recently diagnosed with post-traumatic stress disorder from the massacre.  She said Sydney couldn't shake the devastating trauma of the mass shooting last year and the death of her longtime friend, Meadow Pollack.  She seemed sad in recent days, her mom said, but never asked for help before taking her own life.  Cara Aiello said that she hopes Sydney's story can help save others who are struggling with their mental health in the aftermath of the shooting.
The horrific circumstances of Meadow Pollack's death show the unrelenting savagery of shooter Nicolas Cruz that day and would understandably haunt anyone who loved her.  Meadow was shot 4 times in the hallway on the third floor.  She crawled down the hallway to another student, Cara Loughran and covered her to shield her from the bullets.  Cruz pointed his assault rifle at Meadow's back and shot her four more times.  The bullets pierced through Meadow and into Cara beneath her, killing both students.   Cruz then shot Meadow once in the head.
Pollack's father, Andrew Pollack, who has become an outspoken activist for more security at schools across the country since his daughter death, retweeted a photo of Sydney Aiello and his daughter posing together in fancy gowns with the heartbreaking caption, "A little more than a year after this photo was taken, both are gone."  Pollack said his heart goes out to her "poor, poor parents.  It's terrible what happened. Meadow and Sydney were friends for a long, long time," he said. "Killing yourself is not the answer."  Pollack added "If anyone feels like that they have no one that can understand their pain, if there's any student out there that's having a hard time, please reach out to me on Twitter. I understand you. You aren't alone."
Meadow Pollack's brother, Hunter, also weighed in on Aiello's death on Twitter.  "Beautiful Sydney with such a bright future was taken from us way too soon," he wrote.  Ryan Petty, who also lost his daughter Alaina in the Parkland shooting, stressed the importance of suicide prevention for Stoneman Douglas students.  "It breaks my heart that we've lost yet another student from Stoneman Douglas.  My advice to parents is to ask questions, don't wait."
Cruz, 20, has pled not guilty and his lawyers have said he'll plead guilty in return for life in prison but prosecutors are seeking the death penalty.  His trial is tentatively scheduled for next year.