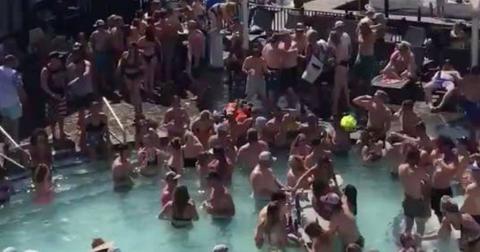 A Missouri resident has tested positive for COVID-19 after going to the Lake of the Ozarks over the Memorial day weekend, health officials said. The Camden County Health Department said one person tested positive for the virus from Boone County. Health officials said the person did visit Backwater Jack's, which is the outdoor pool and bar, where a viral video of people not social distancing was taken on Memorial Day weekend. Authorities say the person developed the illness on Sunday and was likely incubating illness and possibly infectious at the time of the visit.
Health officials provided the following timeline for contact tracing:
Saturday, May 23- Backwater Jacks – 1pm to 5pm, Shady Gators and Lazy Gators Pool — 5:40pm to 9pm,
Backwater Jacks — 9:40pm to 10pm, Sunday, May 24 – Buffalo Wild Wings – 1pm to 2pm, Shady Gators — 2:30pm until about 6:30pm or 7pm, Taxi from Shady Gators to private residence about 7pm. They encourage anyone who was at these locations during these times to get tested for Covid 19.
Photos and videos of partygoers crowded into the swim up bar-Backwater Jacks circulated social media over the holiday weekend. Backwater Jack's Bar and Grill in Lake of the Ozarks is a popular vacation spot in the Midwest that regularly draws summer crowds. It was no different last weekend, even given the pandemic, and people are blasting the restaurant and attendees for ignoring social distancing advice. It's clear from posts on social media that even if the venue was operating at reduced capacity, it was too crowded to maintain 6 feet between attendees.
Visitors and lake area residents told news outlets they were concerned with the lack of social distancing and safety that lead to a positive coronavirus case because they know the area attracts people from out of state also. "Everyone saw it coming so it's kind of irony. Everyone's like oh it's fine we won't do anything. But, there's 200 people in a little pool. So I saw it coming. That's why I tried to protect myself and make sure I keep others safe as well." One Lake area resident said.
A visitor to the Lake Area said "They were taking a chance and I'm concerned about what the outcome will be in another week or two. With the one case showing up. Everyone that was exposed to that person is exposing a lot of other people. So it's a bit concerning."
The Missouri Department of Health and Senior Services said Monday 773 deaths have been attributed to COVID-19 in the state and there are over 13,000 confirmed cases since the outbreak started. The Kansas Department of Health and Environment said Monday the state has almost 10,000 confirmed cases of COVID-19 and there have been 217 deaths since the outbreak started. The US death toll over 100,000.