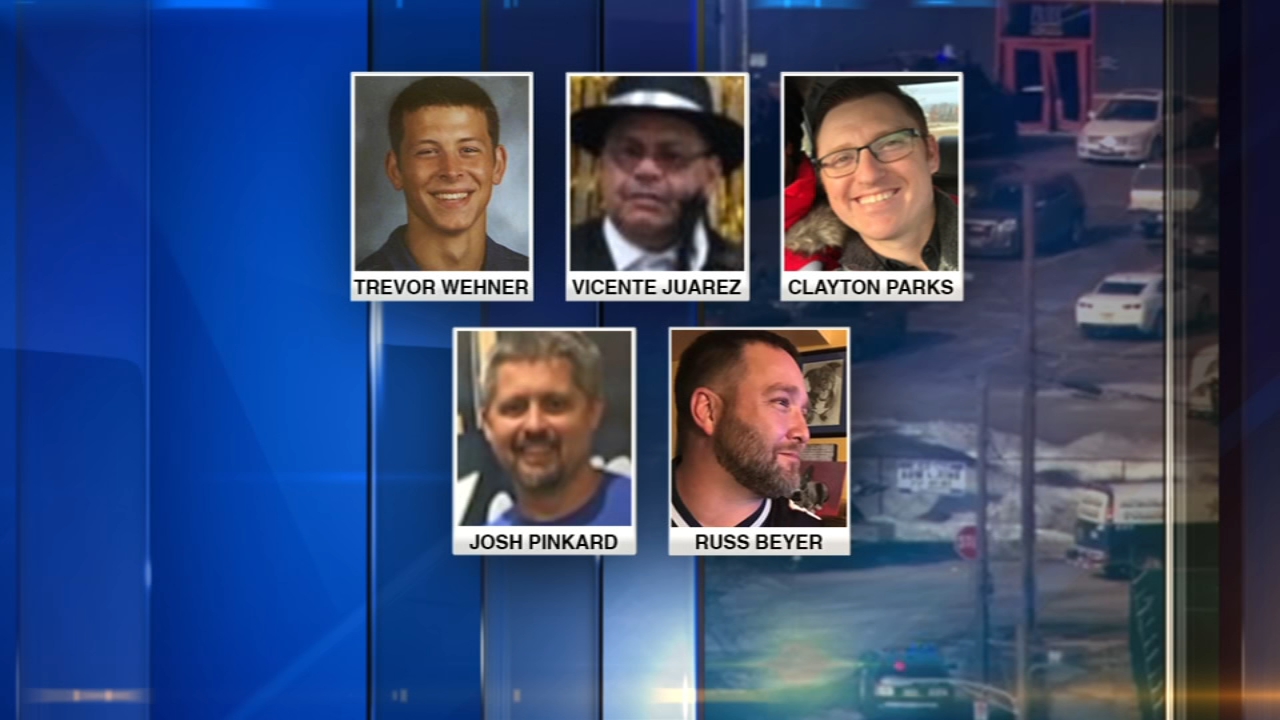 In Aurora, Illinois, 45-year-old Gary Martin, used a Smith & Wesson handgun, in a 90 minute workplace shooting spree.  Martin killed five of his coworkers and wounded six others, including five police officers before being killed by police gun fire.  Martin had worked at the water valve manufacturer Henry Pratt Co. for 15 years and opened fire on his coworkers during a meeting, after learning of his termination.
Police said Martin, 45, likely brought his handgun to work because he knew he was being fired from his job.  Three of the victims were killed inside the meeting room and two others were killed nearby.  The victims were identified as Clayton Parks, a human resources manager who began working at Henry Pratt in November; Trevor Wehner, 21, a human resources intern on his first day with the company; Russell Beyer, a union chairman who worked at Henry Pratt for more than 20 years; Vicente Juarez, a stock room attendant and fork lift operator who had been with the company since 2006 and Josh Pinkard, a plant manager who had worked with the company for 13 years in Alabama before transferring to Aurora last year.
A sixth employee and five Aurora police officers were also shot and expected to survive.  Responding officers arrived at the shooting scene four minutes after the first 911 calls were placed.  Martin shot and wounded five officers during initial exchanges of gunfire. He then retreated into the 29,000 square foot building, where police found him roughly 90 minutes later. He again fired at officers and was fatally shot.
The five officers shot include a 39-year-old man with 13 years of service, a 52-year-old man with 25 years of service, a 52-year-old man with 24 years of service, a 53-year-old man with 30 years of service     and a 24-year-old man with almost four years of service.  A sixth officer, a 23-year-old man with two years on the job, was treated a knee injury sustained during the incident.
In 1995, Martin was convicted of felony aggravated assault in Mississippi and served less than two years in prison for a violent assault against a former girlfriend that included hitting her with a baseball bat and stabbing her with a knife.  Martin had previously been arrested by Aurora police officers on six different occasions, including for domestic violence and traffic incidents. His last arrest in Aurora was for violating an order of protection in 2008.  Martin was not legally allowed to possess a gun in Illinois because of his prior felony conviction in Mississippi.
However, in 2014, he successfully applied for an Illinois Firearm Owner's Identification (FOID) card and bought a .40-caliber Smith & Wesson handgun. When Martin tried to procure a concealed carry license that same year, the Mississippi conviction came up during a background check. Martin was denied a concealed carry license, his FOID card was revoked and he was notified to forfeit his firearm to local law enforcement.  Authorities never confiscated his gun.  His most recent arrest was in 2017 in Oswego, Ill., for disorderly conduct and criminal damage to property.
City officials in Aurora have started a GoFundMe account to help families who lost loved ones in the tragic shooting.  https://www.gofundme.com/f/aurora-strong-community-fund  The GoFundMe has a goal of raising $50,000 to "relieve the extreme financial burdens families are experiencing during this difficult time," according to the city.