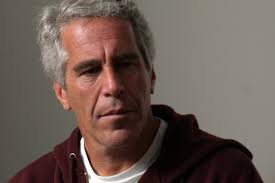 Federal prosecutors charged financier Jeffrey Epstein with one count of sex trafficking of a minor and one count of conspiracy to commit sex trafficking on July 8 2019.  Epstein was first arrested at Teterboro Airport in New Jersey on July 6, after arriving back in the United States from France.  Federal prosecutors also searched his New York City home over the weekend and news outlets report that during the search of his townhouse, investigators seized photographs of nude underage girls, federal prosecutors said.  Epstein has pleaded not guilty on both charges.  If convicted of the charges, Epstein faces a maximum of 45 years.
A federal judge in New York has denied bail to Jeffrey Epstein, declaring him a danger to the community and a significant flight risk. U.S. District Judge Richard Berman pointed to a raid by investigators on Epstein's mansion earlier this month that found "piles of cash," stashes of diamonds and an expired passport with Epstein's photo next to someone else's name listed under a Saudi address.  Prosecutors accused the serial child sex abuser of possible witness tampering, saying he made payments totaling $350,000 to two people he feared could testify against him in court.
Court documents say "over the course of many years, Jeffrey Epstein, the defendant, sexually exploited and abused dozens of minor girls at his homes in Manhattan, New York, and Palm Beach, Florida, among other locations."  It also notes that "in order to maintain and increase his supply of victims, Epstein also paid some of his victims to recruit additional girls to be similarly abused." The prosecution alleges that he sexually assaulted girls as young as 14 years old.
Epstein started his career in New York City as a math teacher at the Dalton School, but went to work at the investment bank Bear Stearns in the 1970s before founding his own firm, J. Epstein and Co., in 1982. According to Vox, he specifically marketed his services to "those with assets worth more than $1 billion," and operates his company out of the U.S. Virgin Islands for tax reasons.  Throughout the years, Epstein belonged to a high society social circle that included politicians and elitists.
Epstein's bust comes months after a federal judge ruled his 2007 non-prosecution agreement —violated federal law by keeping Epstein's victims in the dark. Under the sweetheart deal, Epstein dodged federal charges that might have sent him to prison for life. He instead pleaded guilty in 2008 to felony state charge of solicitation of prostitution involving a minor and sentenced to 18 months in jail.  He served 13 months in a private wing of a county jail, mostly on work release, which allowed him to commute to an office outside the jail six days a week. He also registered as a sex offender.  Many say it was a slap on the wrist for someone accused of abusing dozens of underage Florida girls.
"It's been a long time coming—it's been too long coming," said attorney David Boies, who represents Epstein accusers Virginia Roberts Giuffre and Sarah Ransome. "It is an important step towards getting justice for the many victims of Mr. Epstein's sex trafficking enterprise.  "We hope that prosecutors will not stop with Mr. Epstein because there were many other people who participated with him and made the sex trafficking possible."