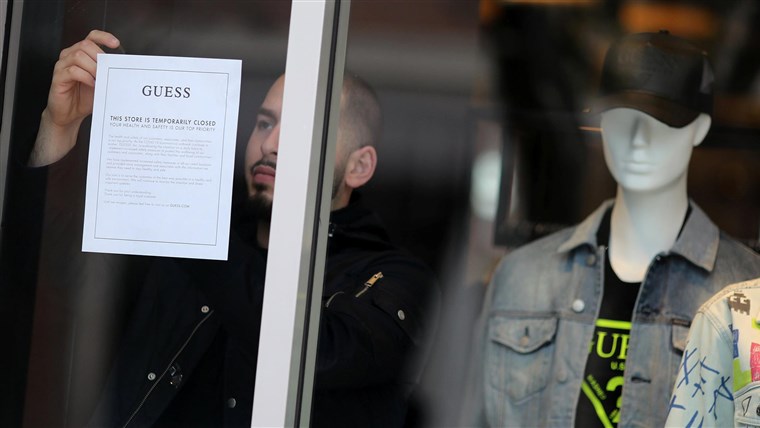 As concerns about the coronavirus rippled across the globe, the US president declared the Covid-19 outbreak a national emergency as public life in America continues to grind to a halt.   Schools have closed to millions of students, creating anxiety for working parents across the country. Travel bans have been widened and some cities across America have issued curfews or "shelter in place" orders to slow the spread of the virus.  More "shelter in place" orders are expected as the number of confirmed cases continues to rise and has now been found in all 50 states.  
Shelter in place orders will come from local government rather than federal.  A growing number of countries have also imposed lockdowns that effectively shut down public life, but the details of such lockdowns vary dramatically.  Italy banned all public gatherings and set a 6 p.m. curfew but allowed travel for work or health reasons, while in China, millions of residents are restricted from even going to shop for groceries.  
The "shelter-in-place" order that San Francisco adopted has fairly large exemptions for health, work, food and even exercise.  City officials ordered residents to remain in place at their homes except for essential activities, essential business, and essential government functions, including tasks essential to maintain health and safety, such as obtaining medicine or seeing a doctor or getting necessary services or supplies for themselves or their family or household members, such as getting food and supplies, pet food and supplies necessary for staying at home.
The order also includes:
Engaging in outdoor activity, such as walking, hiking or running provided that they maintain at least 6 feet of social distancing.

Caring for a family member in another household.

Caring for elderly, minors, dependents, people with disabilities or other vulnerable persons.
Treasury Secretary Steven Mnuchin outlined a variety of potential proposals to Senate Republicans as part of a legislative package to help Americans and industries that are reeling from the coronavirus.  The administration proposed an initial $250 billion could be sent to Americans as early as the end of April if it can muster congressional approval.  
Sen. John Thune noted that getting cash assistance to Americans is something that has historically taken some time, but "I think there are ways now electronically that you can process things more quickly." The proposal has fairly widespread support from Senate Republicans, who say it will offer immediate assistance to Americans impacted by the virus. Some lawmakers have varying ideas about how the proposal should work, including who should receive the payments and how much each American should get.