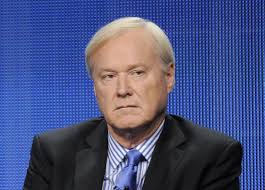 Longtime MSNBC host Chris Matthews has resigned after a string of recent controversies and accusations of sexual harassment. Chris Matthews's show, "Hardball," has been on the air since 1997. Matthews' departure was "mutually agreed" upon by both Matthews and MSNBC, a network spokesperson said.  A series of interim hosts are expected to fill his role until MSNBC finds a replacement.
Journalist Laura Bassett published a piece recounting Matthews's inappropriate comments to her when she was a guest on his show in 2016.   As she was having her television studio makeup applied, Matthews purportedly asked her: "Why haven't I fallen in love with you yet?" Bassett claims that when she laughed nervously, and said nothing, Matthews followed up to the makeup artist with: "Keep putting makeup on her, I'll fall in love with her." 
Another time, he stood between me and the mirror and complimented the red dress I was wearing for the segment. 'You going out tonight?' he asked. I said I didn't know, and he said—again to the makeup artist—'Make sure you wipe this off her face after the show. We don't make her up so some guy at a bar can look at her like this,'" Bassett also wrote.  "I'm pretty sure that behavior doesn't rise to the level of illegal sexual harassment," she added. "But it undermined my ability to do my job well. And after I published a story about it, even though I didn't name him, dozens of people reached out to say they knew exactly who it was."
In December, 2017, details surfaced of a 1999 settlement Matthews' employer, CNBC, reached with a female producer of Matthews' program who alleged Matthews made inappropriate comments about her in front of colleagues in the workplace.  More recently, Matthews compared Bernie Sanders's primary win in Nevada to the Nazi invasion of France and received backlash for being condescending during an interview with Senator Elizabeth Warren, in which he repeatedly questioned her over claims that fellow presidential candidate Mike Bloomberg and his company have a history of mistreating women. 
When announcing his departure, Matthews said "Let me start with my headline tonight: I'm retiring," the Northeast Philly native said at the start of his show. "This is the last 'Hardball' on MSNBC and obviously this isn't for lack of interest in politics. As you can tell I've loved every minute of my 20 years as host of 'Hardball.  "The younger generations are improving the workplace," he said. "We're talking here about better standards than we grew up with — fair standards. A lot of it has to do with how we talk to each other, compliments on a woman's appearance that some men — including me — might have once incorrectly thought were okay were never okay. Not then and certainly not today. And for making such comments in the past, I'm sorry."