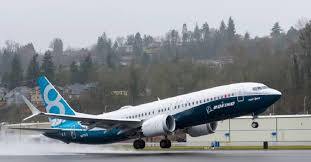 The Ethiopian transport minister has announced that early investigations have revealed clear similarities between the crashes of Ethiopian Airlines Flight 302 and October's Lion Air Flight 610 in Indonesia.  The Transportation Department has launched investigations into regulators' approvals of the Boeing 737 MAX 8, as well as into the development of the aircraft. Just after take-off, both flights, which killed all crew and passengers on board, experienced unpredictable climbs and descents before crashing.  Both pilots immediately recognized a problem and tried to return to the airport.
The United States and many other countries have grounded the Max 8s and larger Max 9s as Boeing faces the challenge of proving the jets are safe to fly amid suspicions that faulty sensors and software contributed to the two crashes in less than five months.  Both Lion Air Flight 610 and Ethiopian Airlines Flight 302 lacked an optional safety feature that could have saved the lives of 346 people.  The safety feature, called an "angle of attack indicator" and an "angle of attack disagree light"—are indicators that Boeing offers only at an additional cost.  Another similarity believed to have played a role in both crashes is that the planes' automated "anti-stall" systems inadvertently pushed both planes' noses downward.
Pilot training requirements on this software came under scrutiny in the days after the March 10th crash with reports that the pilot and co-pilot had never received updated training on a Boeing 737 Max 8 simulator, even though the airline had the technology available since January.  A cockpit recording indicates that the pilots of the doomed Flight 302 were referencing safety manuals but were unable to fix the problem before they crashed.  Officials are probing why pilot manuals did not address the feature.  Reports are now emerging that the Lion Air flight almost went down the day before the deadly accident, but an off-duty pilot riding in the cockpit knew how to disable a malfunctioning flight control system, which was likely pushing the nose of the plane down.
U.S.-based manufacturer Boeing, which is now under heightened scrutiny around the world, has said previously pilots who have flown earlier models didn't need additional training.  Transportation Secretary Elaine Chao ordered an audit of the training and certification process for Boeing's 737 MAX 8 aircraft.  U.S. prosecutors are also looking into the development of Boeing's 737 Max jets and a Justice Department probe will examine the way Boeing was regulated by the U.S. Federal Aviation Administration (FAA).
Boeing has said it has "full confidence" in the planes' safety. Engineers are making changes to the system designed to prevent an aerodynamic stall if sensors detect that the jet's nose is pointed too high and its speed is too slow.  American Airlines pilot and  spokesman for their union, Dennis Tajer said that airline officials told the unions that Boeing intends to offer pilots about a 15-minute iPad course to train them on the new flight-control software on Max jets that is suspected of playing a role in the crashes.  He called that amount of training unacceptable.  "Our sense is it's a rush to comply — 'let's go, let's go, let's go,'" Tajer said. "I'm in a rush to protect my passengers."
These disturbing updates come as families of victims of last October's Lion Air crash say they were pressured by the airline to sign a pledge not to pursue legal action against the company, in exchange for about $90,000 in compensation which was the minimum amount the families were entitled to under Indonesian law.