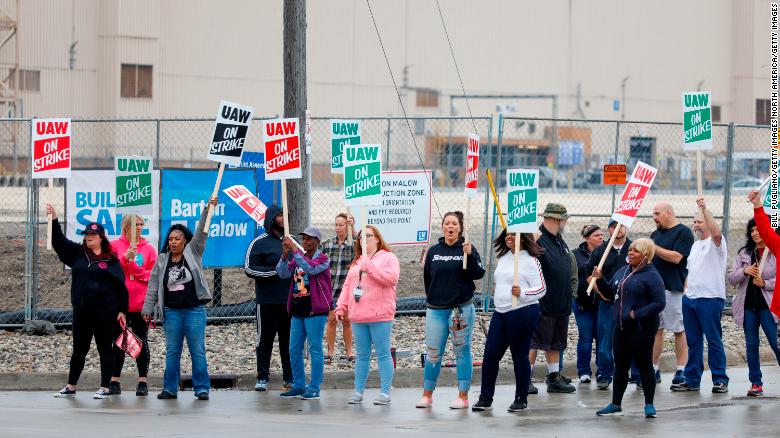 General Motors has told the UAW that it will continue to pay for health coverage for striking workers.   GM told the union after it went on strike Sept. 16 at company sites nationwide that it was kicking health care costs to the union, a move that UAW leaders said blindsided them, even though they had anticipated picking up those costs at some point through the strike fund.  GM stated they have chosen to work with their providers to keep all benefits fully in place for striking hourly employees, so they have no disruption to their medical care, including vision, prescription and dental coverage.
The strike is the UAW's first since the Great Recession and GM's federally induced bankruptcy in 2009. Experts say as the strike continues toward the end of its second week, it has left a lasting economic impact.  Strike pay is $250 per week, but it won't be distributed until the 15th day of picketing. The starting wage for temporary production workers at GM is $15.78 per hour, which is about $630 per 40-hour week. Top-paid production employees, however, earn $30.46 per hour, or about $1,218 per week.
The UAW says that temporary workers are union members doing the same work as permanent employees, but they get half the pay and far fewer benefits.  The union wants those workers to get a path to being permanent and get pay and benefits that more closely match their permanent counterparts, even when they're temporary.  GM counters that employing temporary workers is good for permanent employees because they enable the full-time staff to take time off. Hiring temps also gives the company flexibility to scale up production for new models and combat employee absenteeism
The UAW is also fighting for the retention of a health insurance plan in which workers pay about 4% of the costs, an improved pension and assurances that GM — the maker of Buick, Cadillac, GMC and Chevrolet — will not close four plants in Maryland, Ohio and Michigan.
The strike has affected GM facilities in Ohio and Ontario not represented by the UAW. All told more than 3,200 GM workers represented by other unions have been laid off. On Monday, the automaker notified 525 employees at its DMax Ltd. engine plant in Moraine, Ohio, that they temporarily were laid off.  GM suppliers, such as Magna International Inc. and Nexteer Automotive, also said they temporarily have had to lay off employees during the strike.
Analysts agree that the cost of the strike is mounting daily for both GM and striking workers, as well as for the broader community.  Anderson Economic Group, an East Lansing-based consultant, said in a new analysis Thursday that GM probably has lost profits of $113 million so far, and is now losing money at the rate of $25 million a day.  As talks continue toward a UAW-GM contract, negotiations have entered a new stage and moved to the main table. In recent days, talks have been confined to smaller committees as the two sides struggled to hammer out details.
Union leaders have argued that GM workers deserved a bigger slice of the company's profits, which they say have totaled $35 billion in North America over the last three years. Union members are calling for fair wages, saying for every $1 a GM employee made, CEO Mary Barra made $281.  As the strike enters its 3rd week, the national impact will continue until an agreement is reached.