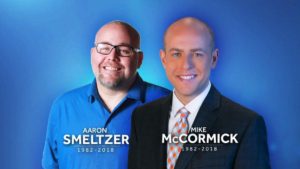 Two journalists in North Carolina died while covering the landfall of Subtropical Storm Alberto, which brought heavy rain and flash flood warnings to swaths of the Southeast.  News anchor Mike McCormick and photojournalist Aaron Smeltzer of the NBC affiliate WYFF died when a tree fell on their news truck.  Authorities said a tree became uprooted from rain-soaked soil and toppled on the news team's SUV, killing the two instantly.  "All of us at WYFF News 4 are grieving," the station said. "We are a family and we thank you, our extended family, for your comfort as we mourn and as we seek to comfort the families of Mike and Aaron."
Anchor Carol Goldsmith broke the news of their deaths on air "Anchor Mike McCormick and photojournalist Aaron Smeltzer both had worked in the Greenville market for more than a decade.  Mike and Aaron were beloved members of our team — our family," Goldsmith said.  McCormick was a weekend anchor for the Greenville station-covering Spartanburg and surrounding areas. He came to the station in April 2007.  Smeltzer had worked in Greenville for more than a decade, winning four Emmys during his career.
The men were driving on U.S. Highway 176 near Tryon around 2pm when the large tree fell on their vehicle, North Carolina Highway Patrol Master Trooper Murico Stephens said.  McCormick and Smeltzer had just interviewed Tryon Fire Chief Geoffrey Tennant. They told Tennant to be careful with Alberto's remnants expected to bring more heavy rains and mudslides to North Carolina. He told them to be careful too.
"Ten minutes later we get the call and it was them," Tennant said at a news conference, his voice cracking.  The fire chief said the roots of a large tree were loosened in ground saturated by a week of rain. The TV vehicle engine's was still running and the transmission was in drive when crews found it.  Tennant estimated the tree to be about three feet in diameter.
WYFF anchor Mike McCormick, 36, is survived by his parents, his partner, Brian Dailey and Brian's daughters, Katy and Emma Dailey; brother, Kevin McMullen (Novi); and nieces, Holly and Kaylee.  He is  remembered as a compassionate journalist who knew how to make everyone around him comfortable. McCormick graduated from the University of Miami with a degree in broadcast journalism and theater arts, WYFF said.  McCormick enjoyed cooking with local, fresh ingredients from the Hub City Farmers' Market, as well as spending time with his family and two dogs.  McCormick started at WYFF in 2007 as a reporter and became a weekend anchor in 2014.
Photojournalist Aaron Smeltzer, 35, is survived by his fiancée, Heather Michelle Lawter of Inman, South Carolina; Mother and Father-in-law, Stephen and Debbie Lawter of Inman, South Carolina; two brother-in-laws, Matt Lawter and his wife Mandy and Chris Lawter and his wife Angel; two nephews, Trent Lawter and Reec` Marlow and his beloved fur babies, Diesel and Mollie.  He is remembered as a talented photojournalist and an unfailingly kind friend that would make you feel like you were his best friend as soon as you met him.