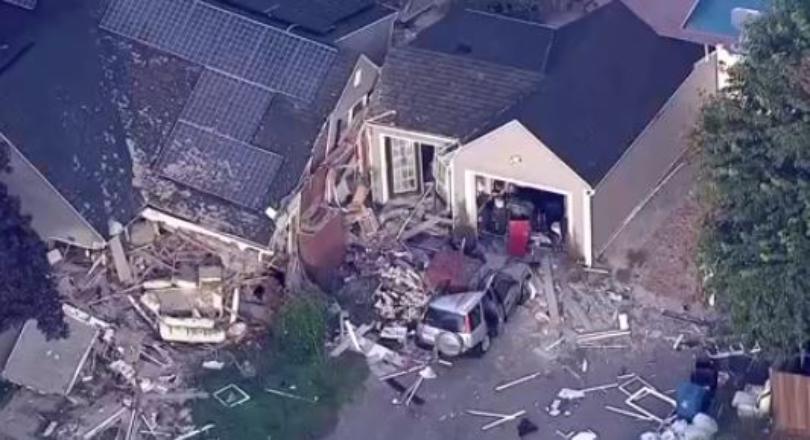 On September 13, dozens of explosions erupted in three towns in northern Massachusetts.  As many as 70 fires, explosions and suspected gas leaks were reported to state police.  At least 39 homes were affected in Lawrence, Andover, and North Andover. An 18 year old man was killed when a chimney collapsed on his car and at least 25 more people were reportedly treated for injuries.  The fiery explosions forced residents of the three towns north of Boston to flee for their lives as the rapid-fire explosions took place.
Officer Ivan Soto of the Lawrence Police Department, whose own home went up in flames, tried to save Leonel Rondon, 18, who was killed after a chimney toppled by an exploding house crashed into his car. "We jumped on the car, and we were trying to pull the chimney," Soto said. "We just want to get it off of him, you know. We wanted to save him."  Rondon was rushed to a Boston hospital but pronounced dead that evening.
Soon after the first fires, Lawrence City Councilor Marc Laplante was warning residents in the Colonial Heights neighborhood to evacuate but said traffic had become a problem.  "People need to get out of this area safely," he said at the time. "It's really difficult because the traffic right now is horrendous."  Entire neighborhoods in the three towns were evacuated as crews scrambled to fight the flames and shut off the gas.  Andover Fire Chief Michael Mansfield told reporters "It looked like Armageddon, it really did.  There were billows of smoke coming from Lawrence behind me. I could see pillars of smoke in front of me from the town of Andover."  Aerial footage of the area showed some homes that appeared to be torn apart by blasts and engulfed in flames.  Authorities believe up to 80 houses were damaged or destroyed.
Lawrence resident Ra Nam says he was in his yard when the smoke detector in his basement went off around 4:30 p.m.  When he ran downstairs and saw the boiler on fire, he grabbed a fire extinguisher and put it out.  Minutes later, Nam said he heard a loud boom from his neighbor's house and the ground shook.  Nam said a woman and two kids had made it out of the house but the basement was on fire.  The three communities have more than 146,000 residents about 26 miles north of Boston, near the New Hampshire border. Lawrence, the largest of them has a population of about 80,000.
Officials say the cause of the explosions is still under investigation but that it could have been caused by an over-pressured gas line. Columbia Gas was upgrading the gas lines in the three towns when the dozens of homes suddenly went up in flames.  Governor Charlie Baker has said it may be days or weeks before the 8,600 people displaced could return to their homes.  He added that state and local authorities are investigating and checking each house serviced by Columbia Gas company, to shut off the gas line and make sure the home is safe.  "This is still very much an active scene," he said. "There will be plenty of time later tonight, tomorrow morning and into the next day to do some of the work around determining exactly what happened and why."
In a statement, Columbia Gas said a total of 8,600 customers will be without service until safety teams can ensure that their homes and businesses are leak-free.  Around 18,000 customers of National Grid electric company are also without power, after the lines were shut off to prevent any sparks that could ignite stray gas.  By late Thursday, all of the fires had been doused but many areas remained silent and dark after residents fled and power companies cut electricity.  Schools in all three communities were canceled for Friday and some schools were being used as shelters for residents.
Tell us what you think of this story in the comments!